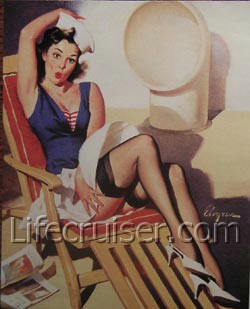 Skirts Ahoy! 1967. Oil on canvas. Gil Elvgren.
© BROWN & BIGELOW, INC, ST.PAUL, MINNESOTA
Friday's port is as surprising as the skirt lifting in this picture above – we'll never know what we find under this cruise either

Since it's Friday I thought that it might be good to start with a little joke too….
The first mate on a ship decided to celebrate an occasion with a "little" stowed away rum. Unfortunately he got drunk and was still drunk the next morning.

The captain saw him drunk and when the first mate was sober, showed him the following entry in the ship's log: "The first mate was drunk today."

"Captain please don't let that stay in the log", the mate said. "This could add months or years to my becoming a captain myself."

"Is it true?" asked the captain, already knowing the answer.

"Yes, its true" the mate said.

"Then if it is true it has to go in the log. That's the rule. If its true it goes into the log, end of discussion" said the captain sternly.

Weeks later, it was the first mate's turn to make the log entries.

The first mate wrote:

"The ship seems in good shape. The captain was sober today."
You shall always speak the truth.
CHEERS 2 YOU all crazy cruisers

As soon as our host is ready: let's go ashore and make this port surprised!!!
Captain Cheerfull Lifecruiser

Friday port: North American Surprise | Hootin Anni
Next port: Leura, Blue Mountains, NSW, Australia
Do you want to hop aboard at next port?
Read about Cruiser Grades.
Read more about Lifecruiser cyber cruise.
Cyber Cruise Calendar 2007
Cyber Cruise Souvenirs

Lifecruiser Cyber Cruise in Technorati