(Click to enlarge, all photos)
When I was a little girl, I loved the Swedish Princess cake, with a green Marzipan cover. That's the most common one. Though they used to have mostly pink roses on the top back then.
Yes, I have taken a bite of the cake before taking the photo… *giggles*
I wished to have such a birthday cake once and I ate most of the cover myself and of course it were too much, so after that day I couldn't eat Marzipan for many, many years.
There are much more fun birthday cakes nowadays and for kids too. Who wouldn't have wanted one of those?
One of the sweets of a genuine Christmas in Sweden are the classic Marzipan pig with a big apple in the mouth. I don't know how popular they really are, but since they still make them, some must still buy them.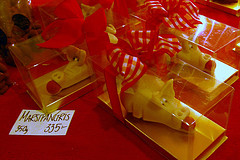 Photo by sallad
The rest of the year all kind of Marzipan figures, some of them partly dipped in chocolate and some of them not even made of real Marzipan.
Have you received an email that shows simply amazing images of Marzipan babies that look totally real?
They are hoax emails, the babies are actually done by the very talented artist Camille Allen – of polymer clay and not Marzipan. They are just as adorable as real babies. They would have been awful as Marzipan – I couldn't have taken a bite of them!
Marzipan is used in many countries to a variety of things, not only figures but also as fake fruits or vegetables, on top of different kind of cakes or as filling, so Marzipan is without doubt very useful.
Not to mention the almond paste in the Swedish Semla! Though they are eaten in the end of February and not around Christmas.
Remember that special kind of technique to eat them….? *giggles*
When it comes to the Swedish Semla, I prefer the one where the almond paste is mixed with the whipped cream instead of putting a whole ball of almond paste hidden under the cream.
Marzipan is consisting mostly of sugar and ground (and some bitter) almonds and that's perhaps the only reason for me to like Marzipan – it's not just made of chemicals as so many other candy seem to be nowadays.
"Under EU law, marzipan must have a minimum almond oil content of 14% and a maximum moisture content of 8.5%. Optional additional ingredients are rosewater, honey, pistachios, preservatives, and sometimes hazelnut. In the U.S., marzipan is not officially defined, but it is generally made with a higher ratio of sugar to almonds than almond paste. One brand, for instance, has 28% almonds in its marzipan, and 45% almonds in its almond paste.

However, in Sweden and Finland "almond paste" refers to a marzipan that contains 50% ground almonds, a much higher quality than regular marzipan".

Source: Wikipedia
What's the difference between marzipan an almond paste then?
In Marzipan the almond and sugar is rolled together to a smooth mass, so that the almond oil is keeping the almond and sugar together. The almond paste is 50 – 50 of almond and sugar in Sweden, that has been mixed with egg white to keep it together.
No wonder Sweden is so full of nutty pigs! *giggles*
Captain ♥Piggy Lifecruiser
Lifecruiser Cyber Cruise Tips:
Maribeth on a Panama Canal cruise
Tor's reports from his Miami trip