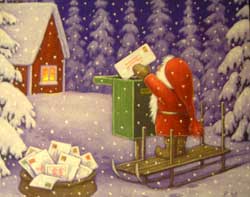 ♥ A more modern Christmas card ♥
I've noticed that people here in Sweden are not sending as much Christmas Cards as earlier years. People seem to send less and less Christmas Cards for every year and today, many of my friends has stopped completely. (And not only to me

Many of us send webcards or cards by email instead. I both like that and don't like it. Sure it's much more easy, but is it as personal as real Christmas cards is? I don't think so. It takes at least some effort to write by hand.
When I was writing as most Christmas Cards, I was sending about 70 cards. I had the time to do it, since it was rather quiet at work and we were allowed to do other things during working time. It was when I worked in an IT Helpdesk in the eighties. Not so much problems with their IT systems then!
OK, 70 cards isn't that much, but when you consider the fact that I didn't only write our signatures - in Calligraphy - but also drawing a lot on them, it becomes more time consuming. It took me about 14-21 days every year to write these cards - every spare time I had.
Phew! But it was something I found fun because I knew that they were special. (I only regret that I didn't take any pictures of them, it would have been nice to see them today).
Then it gradually started to decrease as my workload increased. First off were the friends that weren't that close and so on, until today. I'll only send 5 Christmas cards by real mail this year to my friends, special ones or the ones without a internet connection.
This is my last 5 Christmas Card from my collection of Christmas cards I collected in the eighties, hundreds of cards. Now I've come to the last ones. Does this mean that it will be my last Christmas cards ever that I send? I don't know yet. Can I let it go totally? I doubt it.
It's a pity, but people don't seem to appreciate it as much as before and they say that they don't have the time for it or want to spend any money on it.
Are the old tradition on the way to die completely…? How about you yourself and how is it in your countries?