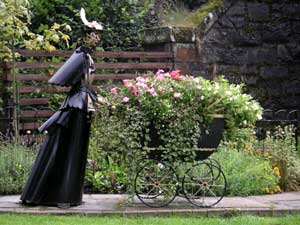 ♥ Join Green Thumb Sunday ♥
We've been to Scotland twice and I must say that I want to call it the green island instead of Ireland. There is so many wonderful gardens and the landscape are so green.
This is one of the more special garden views we managed to get on our trips. I'm almost ashamed to say that we didn't visit any official gardens over there…
…butt I promise to do that if we go there again!
(Which can happen since it's one of our favorite places)
Captain Green Lifecruiser

Next port: The filmfestival in Cannes, 24th of May.
Host: Our own Paparazzi Claudie – go there for some previews.
Do you want to hop aboard at next event?
Read about Cruiser Grades.
Read more about Lifecruiser cyber cruise.
Cyber Cruise Calendar 2007
Cyber Cruise Souvenirs