Ullahau is a big horse shoe shaped parable sand dune in the north east of Fårö island (Sweden) with flying sand that was created in the first half of the 18th century. In the beginning of 1900 it threatened to cover the whole island with sand.
Today Ullahau is a nature reserve area (since 1966) of 144 hectares and mostly covered with pine trees among the sand dunes. Quite an odd sight with a forest with sand dunes.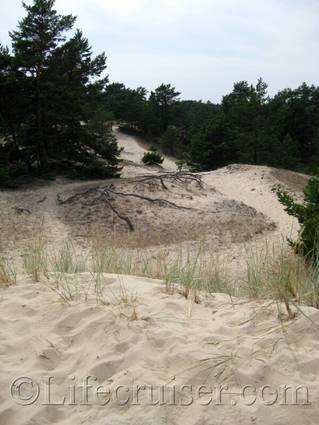 The sand dunes stretches over the island, from Suder­sand to Ekeviken. Easiest way to find it is to park at the parking spot north of Sudersand – the most popular beach at the island.
These sand dunes makes perfect homes for several types of rare insects, among them the antlion who makes sand pit traps to catch their victims.
Me too just love this sand, just look at the fine quality – that sand is finding it's way in everywhere!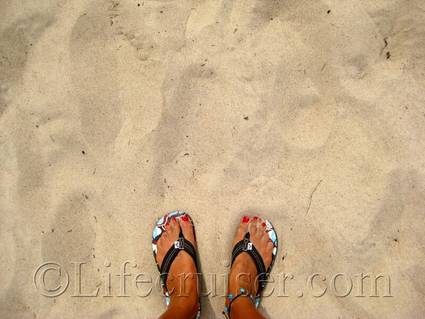 Ullahau is the perfect place to make an excursion to a day when it's not beach weather. The sand dunes makes it warm and cozy in there.
The man that initiated the big planting project to stop the sand, is honored today with a stone that stands at the beginning of the two tracks you can follow through the Ullahau area.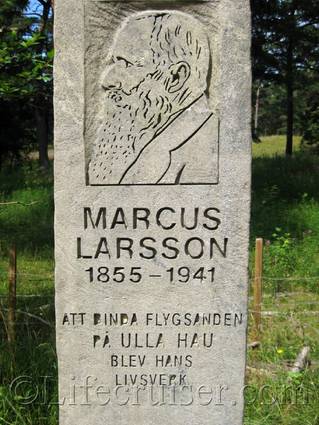 Mr Lifecruiser use to claim that every one that comes to Fårö has to make a run in "Kalles backar" (Kalle's hills) in Ullahau, otherwise you haven't really been here.
So this time it was his nephews turn to run…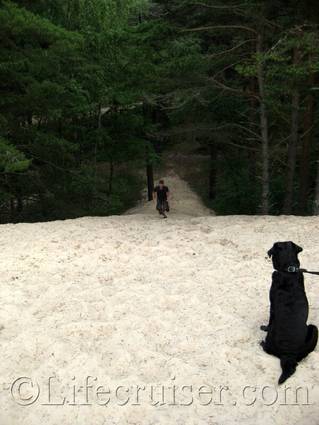 He managed it very well, but their energetic dog went dead tired after a run there…. *giggles*
Lifecruiser ♥ Ullahau Sand Dunes