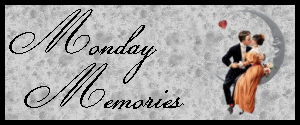 Since it was Debbie over at Fruity Spirit that gave my the idea to write about this memory with her 100 things post, I decided to honor her by using her banner too

I have sometimes during my life had a problem with sweaty palms of my hands. It can be worse in the summertime when it's hot outside, but it's not only because of the heat. I believe that just the fact that I know that I can be sweaty, makes me sweat…
Anyway, I had almost forgot about that fact, because it has become better with age - I guess it has some amount of self confidence involved there too.
Some of you might not know that Mr Lifecruiser and I first got to know each other on the internet. Short version: We did chat with each other for night and day for about 7 weeks before we decided too meet out over a coup of coffee.
We had only seen each other on pictures and not even talked over the phone! I was almost paranoid, not leaving out any information about myself, a lonely woman have to be careful right?
We were both very careful to point out that it was as friends only, but we had so much fun that we wanted to meet. We both had very long relationships behind us and didn't want to get involved in a new one yet.
Little did we know that destiny said something else…. Mr Lifecruiser throwed all lifejackets overboard as soon as he got the first hug from me. I wasn't at all prepared that he should do that. I knew that we had something strong going on, I could tell from the chatting sessions we had, but from that to this rapidly development? Pheew. Very scary!
Though I was most concerned for him. That this would go too fast for him, that he hadn't thought through this properly and so on. That made me very nervous, because I didn't want him to regret anything. I mean, after all, this was the first time we met each other!
Since I was the one taking the final step to break up with my last man, I had that situation fresh in mind and it was not an easy thing to do and I was very scared of hurting another man like that again.
We went for a ride in the car first, out on Djurgården, a popular recreation space in the city. It was snowing and very cold, so our plans for a walk were kind of frozen. Finally we found an open café, Lilla Hasselbacken, where we stopped for coffee.
Both of us choosed to have apple pie and lots and lots of vanilla sauce. The apple pie were practically drowning in the vanilla sauce. And we took a second portion… We sat there for very long and talked and talked.
He was looking very intense into my eyes all the time. You could cut the air between is, it was so loaded with love. He wanted to hold my hand at the same time so he did - but he needed a big towel too! *lmao*
He was making me so nervous, since I wasn't sure that he really knew what he was doing, so my palms were almost dripping of sweat!!! I have to admire the man for still holding my hand, despite that fact!!!
The thoughts went through my head all the time: is he serious, does he know what he is doing and so on. I wasn't sure he was, but he seemed to be, so I had to believe him.
Obviously he did, because we were a couple from that very day. The 29th of December 2003. That date every year, we go back to Lilla Hasselbacken to eat a bowl with vanilla sauce with some apple pie….
Even this day, if he takes my hand and makes some comment of how dry my hand is, it just takes seconds and it's all sweaty! It's just so darn funny! For him!
I'll always be his ♥ sweatheart….