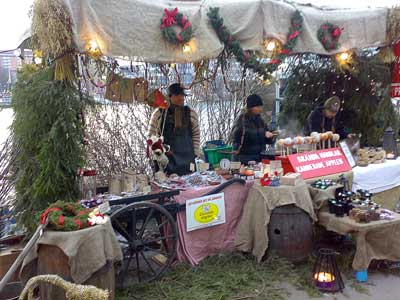 Our favorite stall of them all from gardsbutiken.com
Last Sunday we went to a street market in Stockholm at Hornstull in the south of Stockholm city, down by the waterside.
It's Stockholms first permanent art, music and design market which is inspired by Spitalfields in London, so it's not quite an ordinary Christmas market as it use to be over here, but never the less, an interesting market place!
We always want to visit at least one Christmas market to get the right Christmas spirit, which have been difficult this year, very much due to the weather which has been very gray and cloudy up to this day. We need some snow to get the real Christmas spirit, despite the fact that I don't like snow otherwise…
So here is Mr Lifecruiser at the Christmas market, obviously praying for some snow…. *giggles*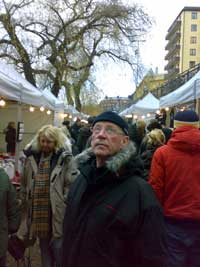 So, as the text under the top photo says, we had one stall that was our absolute favorite, because they had really gone out of their way to create a real, old fashioned Christmas styled stall, like it were back in old times here in Sweden.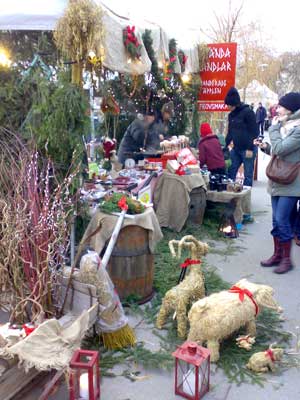 I just loved this old wagon with delicious sausages. The signs says: You feel it on the taste! Dövestads (Farm in the south of Sweden) Outdoor Pigs. www.gardsbutiken.com. (Gårdsbutiken means The Farm Store).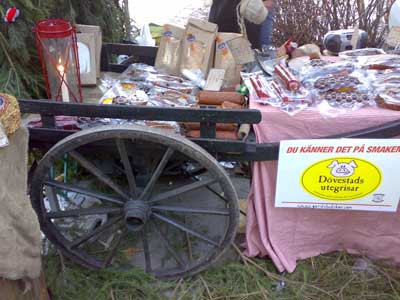 …and you must have some candid apples and almonds of course!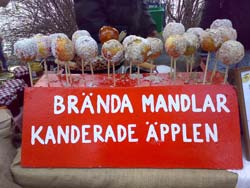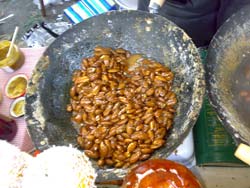 The most tasty almonds I've tasted for years!
Another stall with nature products – some sheep furs to keep you warm maybe? We already have one we bought at Fårö last summer and I must say that it's so cozy to feel the soft fur under your feet the first thing in the morning!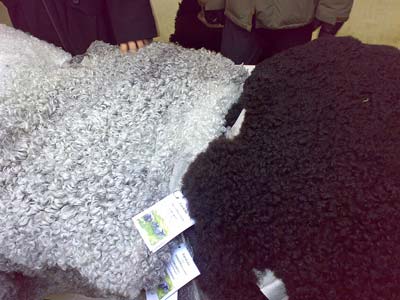 Or why not something to keep your puppy warm too?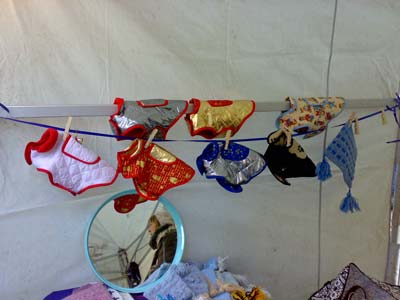 …and what about a hat as a Christmas gift? Or som cakes? Look at those fun green fake cakes in the top of the photo.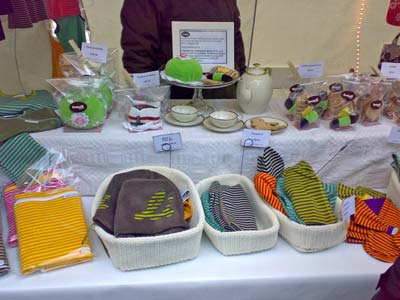 Time for some candy again, wouldn't you say? *drooling*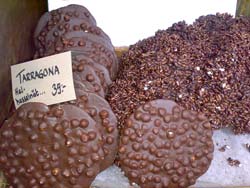 The chocolate ball is very common here
There were only one stall that had some porcelain. We nearly bought a rectangular plate to put candles on, but backed out, not quite what we wanted even though it was nice with the hearts over the whole stall…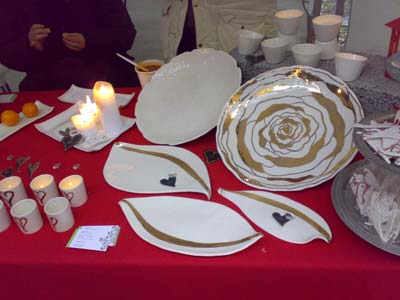 Have you seen one of those before? It's the modern variant of oven glove, made of silicon which don't lead heat. We tried it on and it's quite small, it feels a bit odd to imagine to use it though.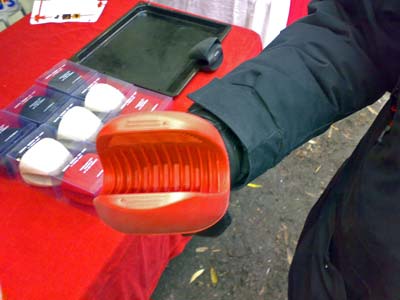 Considering the fact that this market also were for art, we did see surprisingly few art objects and the only painting we spotted were those fun cards, mostly there were angel cards. Sorry to say, I didn't get who did them. Shame on me.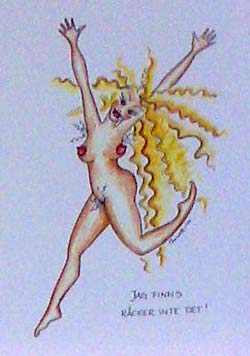 "I exist – isn't that enough?!"
Personally I love the joyful style of the cards and the unique style. I loved this ones hair too. I wish I had hair like that. And no I don't mean under her armpits or…. I mean on her head. *giggles*
We did spot some old craft stalls too, with wrought iron and handmade knifes, but they didn't have much to sell, maybe it had been so popular that there weren't much left.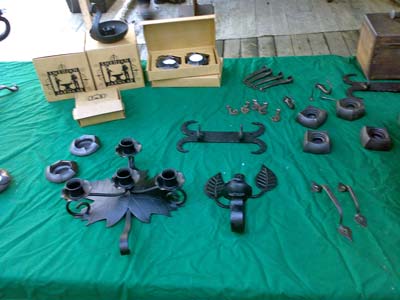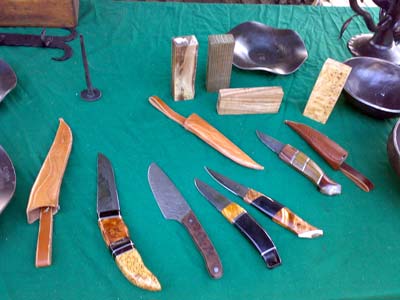 There were quite many stalls with cheese, I suppose that says rather much about us Swedes. We love cheese in all kind of tastes. Goat cheese is very popular and most of those are from goats. I love goat cheese.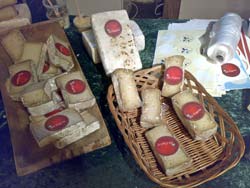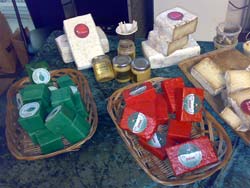 "Say cheese!" *giggles*
Otherwise this was a market with very much vintage or retro styled (what's the difference?) clothing and things, so it's fun that way – doing some time travel. Though I couldn't take many photos of the clothing since it were so crowded there. It's very popular in Sweden nowadays, especially for youngsters.
We discovered this little girl dress, which is made from a fabric, which my sister Susan had as curtains in the seventies!!! I've actually seen a similar wallpaper back then too…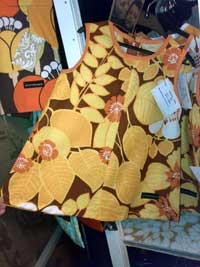 Maybe some shoes that goes to that dress too?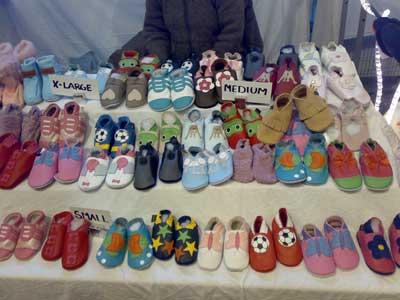 Remember the cartoon Tintin? There was some old posters with Tintin. Not that he was my favorite, but I still think that it is a very original comic figure.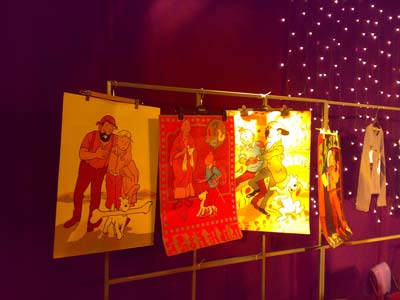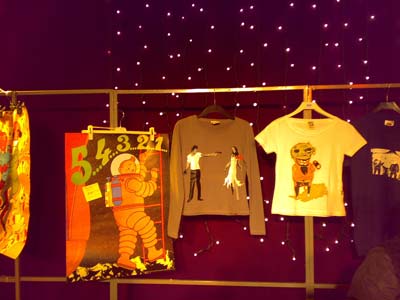 Remember how fun we had with the yo-yo? There was a book about the yo-yo and the tricks you can do with it, that actually had an yo-yo built in it.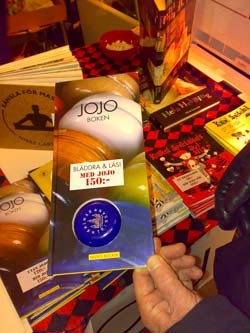 Do you like lizards? How about this cool lamp then? Some cool Christmas gift or what do you say?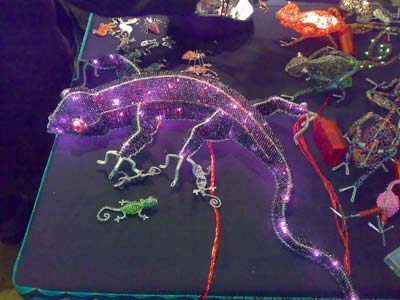 If you happens to be in Stockholm and you haven't been there yet, they're having this Christmas market even this weekend, the 22-23 of December too, so just go there.
We ended the day out in the chill, with a coffeebreak at a café to warm us up and then right after that, a beautiful Christmas concert in the nearby church, Högalidskyrkan, built in 1916-1923 in Romantic nationalistic style.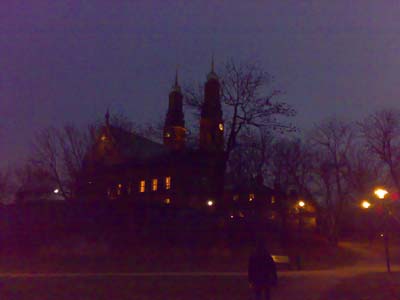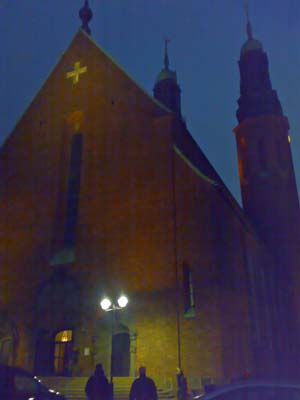 There were Högalidskyrkans motet choir and the chamber orchestra. Their director, Göte Widlund, were very engaged in the performance and did elicit the best from the participants. Even from the audience.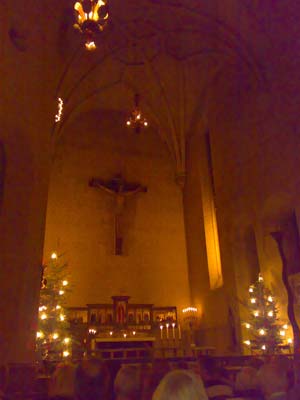 Sorry, no pictures from the performance, since I had to turn off my mobile phone to not disturb the performance.
It was a really good music event and it was finally bringing forward the true Christmas spirit in us

If you like Christmas markets, I also recommend reading these posts: Christmas market in Brussels with Gattina, Winchester Christmas market with A. and Yule market in Oslo with Renny.
Or you could have a look at Tor's snowy scenery instead. For me it's enough to see it in pictures… Brrr…
Captain ♥Christmas Lifecruiser