One day we got a postcard from Florence (Italy), from my sister and her husband. A real travel postcard (which is so rare nowadays!), not an online one. A somewhat unusual written one, but oh, so brutally honest – and kind of fun…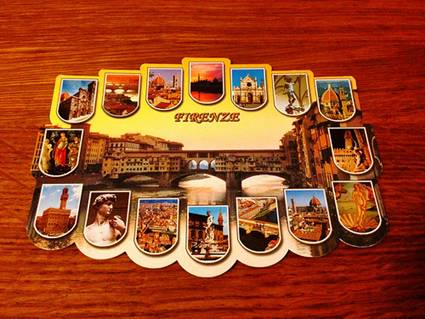 I'll try to translate the postcard correctly for you below, since it's so hilarious in some parts, especially if you recognize some of your own travel experiences too!
Saluti da Firenze 21th of April

Buongiorno at you!

We're now in the west worlds cultural center! Here are so much culture that we now are giving our feet some air at the hotel room. Even the hotel room is smelling culture, as an example: the heat is not working, light bulbs are missing and the fridge – the minibar – provides warm beer. To see some light in the room, we have to climb up at a shelf in the wall where we with a certain experience can manage to open two windows shutters and then we can see the sky! Otherwise everything is peace and joy.
Greetings A and G…
I can't help laughing, even though it shouldn't be like that. When will it ever change, the cheating charter agencies or hotel owners, with the announced standard when buying the trip…?
And even if you buy it to a discounted rate, it still should not be like that. Period. This is why I would advise you to do more research when you are planning your trip and accommodations in Florence, Italy or any other places and have a better experience.
©Lifecruiser Love Postcards