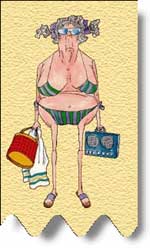 It's a wonderful sunny Sunday and we're going to the beach. Which beach? Well, let's see how far we care to drive….
There are a lot of beaches in the Stockholm area you now. Not only at the Baltic Sea, but also around the lake Mälaren. So we're spoiled

What do you think, aren't I just stunning in my bikini? Maybe I could hold a place as a beach babe in Baywatch…?
UPDATE: Oh, I was HOT on the beach! *lol* So hot that I had a whole gang admirers around me all the time. They really bothered me! They were every where, touching my naked body, whispering in my ear, showing their sting thing…. I'm talking about the WHASP'S. Oh, my god, so annoying they were - I managed not to be stung by any one, but there were 2 children that got stung!