Time to celebrate! We were applying to be members of The 9rules Network a while ago and out of 700 sites, 111 were selected – and we're one of them!
*jumping up and down in excitement*
We were quite surprised by this great honour. Of course we were hoping, but in this good company, how could we stand a chance? Maybe it was our passion and love that drawn their attention.
What is the 9rules Network then?
As stated on the website:

"The 9rules Network is a community of the best weblogs in the world on a variety of topics. We started 9rules to give passionate writers more exposure and to help readers find great blogs on their favorite subjects. It's difficult to find sites worth returning to, so 9rules brings together the very best of the independent web all under one roof".
Some members seems to be concerned about not being that exclusive any more since we, the newbies, have been selected, but is it really less exclusive just because of the increase? I don't think so. The exclusive part don't come from the amount of members, it comes from being one of the kind, passionated of what we're doing, which we all are.
The benefits with 9rules is not only to increase our traffic to this blog, it's a community which help each other with our common passion for building websites to be the very best, by helping each other to reach our goals. Making more friends, giving and getting advices or feedback and sharing projects or ideas.
They originally started in 2003 with a set of 9rules for living:
- Love what you do.
- Never stop learning.
- Form works with function.
- Simple is beautiful.
- Work hard, play hard.
- You get what you pay for.
- When you talk, we listen.
- Must constantly improve.
- Respect your inspiration.
For us, these rules are not only rules, it's the way we already live and will continue to live – in cyberspace or in real life. Actually we think that the first rule "Love what you do" would be enough to cover in the rest of it.
We want to keep the passion of writing on fire as much as our love to each other. The only difference is that in our love to each other there isn't much room for more improvements since it's already flaming perfect

When it comes to this blog, the process is going on, we're working on it constantly. We already update regularly, but we don't think that's enough. Oh no. We are determent to improve our writing skills further and also the design of this blog layout.
The layout has been an issue since the beginning of this blog actually, but since we've been busy travelling and being ill

, the re-design part have to wait a little.
Though the most important thing of all is our readers – yours – impression of us and the communication with you. We love your comments, short or long, fun or serious – as long as we get some kind of reaction from you.
So, keep coming back, it's YOU that keep this blog alive!
Opening up the Dom Perignon's to make a toast for us, it's we together that made this blog to what it is today.
Cheers and thanks for being
♥
blogfriends!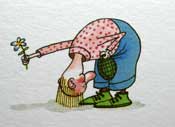 And thank you 9rules – together we rules

Technorati Tags: 9rules