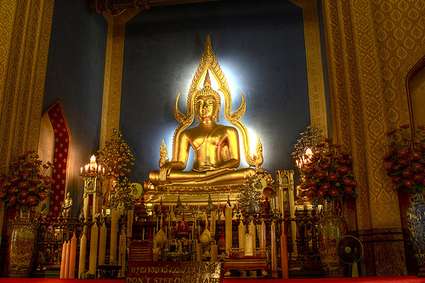 Photo by
Bruno
The country of Thailand is a unique blend of rich heritage, a strong culture and unbeatable friendliness. Together, this creates the unbeatable Thailand holidays which so many foreign travellers love. From gorgeous sandy beaches to breathtaking temples, Thailand has hundreds of wonderful destinations worth visiting.
Visit these top destinations on your new found holiday deals for an unforgettable trip:
Bangkok
The majority of visitors to Thailand spend at least part of their holidays in the bustling capital of Bangkok. The city is home to three of Thailand's most famous temples, including the Wat Pho, Wat Arun and the Grand Palace. You will also find the largest reclining Buddha statue on earth, and impressive structure that dominates the area. One of the best ways to see the city is with a boat ride along the Chao Phraya, the river that traverses the center of the city. To get a better understanding of the history and culture of the Thai people, make your way to one of the world class museums in Bangkok, such as the National Museum or the Museum of Siam. At night the streets of the capital truly come alive, with many bars, restaurants, night markets and muay thai boxing performances. 
Chiang Mai
This city in Thailand has a much more sophisticated and relaxed vibe when compared to the capital, with an emphasis on natural scenery and outdoor adventure. Around the city are several elephant camps where visitors can ride an elephant through the wilderness, and get a feel for their natural habitats. Eco tourism is becoming more and more popular in the area, with environmentally friendly accommodations and rainforest canopy tours available. Back in the city, don't miss out on a trip to to Wat Phrathat Doi Suthep, a gold plated temple that is truly breathtaking. Aside from the Wat Phrathat Doi Suthep, there are 300 other smaller temples in the area, many of them still inviting in worshippers. 
Phuket
Of course, no guide to Thailand's top destinations would be complete without mention of at least one beach locale. Phuket is located along the Southern coast of the country, and is one of the most incredible and scenic beaches on earth. Although there are opportunities to hike, dine and shop in the area, the real attraction is the water, with activities like scuba diving, jet skiing, parasailing, fishing, snorkelling and surfing the most popular pastimes. As might be expected from a world class resort town like Phuket, there are a wide range of accommodation choices to fit into any budget, as well as international and upscale dining. Also popular are trips to nearby islands, such as Racha and Phi Phi, to spend the day on a deserted beach with friends and family.
Click here for great deals on an adventure vacation in Thailand, however, if you prefer something a little less adventurous and more relaxing why not take a week off or two and stay in Mauritius through Virgin Holidays.
Lifecruiser Love Holiday Tips

Disclosure: I have a material connection because I received a cash payment, gift or item of nominal value from a company affiliated with a brand, topic and/or product that is mentioned herein. However, I only post about tips I truly believe travelers could have good use of.