To travel by train is possible within Sweden or to Norway or Denmark, but it's generally not considered to be especially cheap and takes longer time than flying. You can travel from Malmö to Germany with www.bahn.de and there is of course possible to connect to other European cities. Try out the InterRailnet.com pass (or eurail.com for non-Europeans).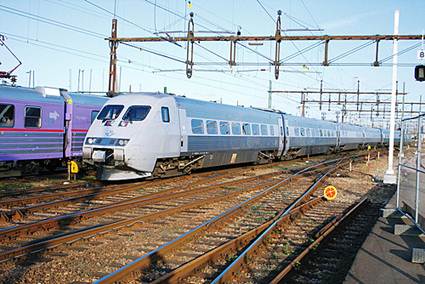 X2K Train Malmö-Copenhagen. Photo by Hugh Llewelyn
The main train booking site in Sweden is sj.se. To get the cheapest ticket you can, a great advice is to book in low traffic days like Mondays and too book early, because last minute deals are only for retires and youngster under 26. Last minute can be bought the last 24 hours before departure.
Another alternative is to buy the tickets at Tradera.se where SJ is placing their unsold train tickets on auction with the outgoing price as 1 SEK. Book your train ticket on the internet or in the ticket automat at the station to get the lowest booking fee. Also check the different train types, very often the speed train X200 is more expensive.
Personally (and many others with me) I find SJ's new system to buy tickets more complicated, I like the way it were before when there were normal ticket prices and last minute prices.
There are also the alternative to book with veolia-transport.se, for example between Malmö – Stockholm or Malmö – Berlin. Their ticket system is with fixed ticket rates.
Both the Resrobot at reseplanerare.resrobot.se (mobile app too) and resplus.se are very useful travel tools if you decide to take a train trip.
You can find a list with all the tracks in Sweden at www.jarnvag.net, (info in Swedish) and lots of other information. Especially interesting if you're a train enthusiast, since they also keep a list of Museum railways (even some steam trains).
If going from Stockholm Arlanda Airport in to Stockholm City I recommend taking the express train arlandaexpress.se to/from Arlanda since the traffic is sometimes not so reliable, with the train you're always in time. They also use to have a journey time guarantee, so if you're not in time, check if they pay you back the ticket price.
To travel locally within Stockholm County you can go by the subway. Timetables for the Stockholm subway can be found at sl.se and it goes rather far out in the suburbs. Make sure you get the right ticket card to lower your subway ticket fee's, because buying only one ticket at the moment, is going to be expensive for you.
There are available SL cards I recommend that's valid from 24h up to 7 days (and beyond if you plan to stay for long), but if you're going to do sightseeing which includes a lot of museums and other attractions, I do recommend to get the Stockholm Card from the tourist office. It's worth it and makes things a lot easier.
©Lifecruiser Love Train Rides
Other train travel related posts at Lifecruiser:
Travel News: Arctic Circle Pass by SJ
Where to go by train from Madrid
How to find cheap holiday deals from Sweden