Join Wordless Wednesday
Maybe this was after being elfed by Hootin' Anni

Captain ♥Smile Lifecruiser
Don't miss to Cyber Cruise to:
Sandsculptures with Mar!
South America with Tor!
Christmas market in Brussels with Gattina!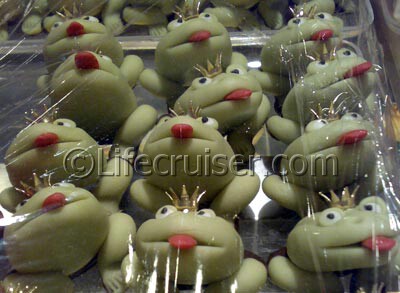 Theme: Small | Next week: Light
PhotoHunt in Technorati
This is what I call cake creativity! Small frogs sticking out their tongues at you! I love them!
I wonder what they're trying to tell us? That we won't find our Prince Charming by kissing frogs any more?
But I've already found my dream frog – and the only time his tongue is hanging out is when he is drooling over his hot wife! *giggles*
(Remember the drooling kit I used once…?)
…and the plastic cover, is that what they call safe frog sex?
Captain ♥Frog Lifecruiser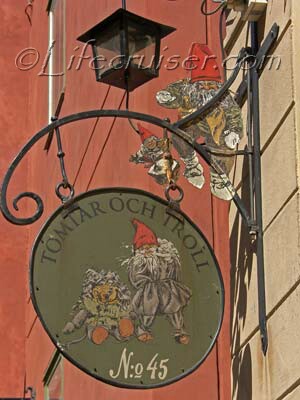 Theme: Red | Next week: Long
PhotoHunt in Technorati
This is an old fashioned sign from the store called Tomtar och Troll (Santa's and Troll's) which is situated in the Old Town part of Stockholm. Yes, I know, the only red on the Santa's is the Santa hat. I'm not really sure though if this only are Santa's Elves (tomtenissar) or maybe farm santa's.
From the beginning in Swedish folklore, they were farm santa's (gårdstomtar) which were believed to take care of a farmer's home and family and protect them from bad luck, especially in the nights, when the family were sleeping. That's also why we have the tradition of putting out a bowl with porridge to him on the farms. The word Tomte comes from the house lot = tomt in Swedish.
During the years, the American Santa Claus style has been adopted over here too, with the red Santa dress, though we still call him Tomten, so he is not quite the same as the more traditional farm Santa's (tomtar), which is the smaller ones dressed in gray.
Today is the day when most of the Swedes are Christmas decorating their homes and so will we do too. Though we don't have much decorations since our apartment is so small and we really hadn't planned on staying home during Christmas. We still don't know how it will be.
We will not have any Christmas tree. Swedes generally don't put up the (indoors) Christmas tree yet. That will not be up until as earliest a week before Christmas Eve. Most Swedes waits until just a few days before Christmas Eve to get one and the decoration of it is done the evening before Christmas Eve.
The outdoors Christmas trees may be there from the beginning of December. Even in an apartment block like this one, we have a few Christmas trees outside.
Captain ♥ Lifecruiser
Congratulate Tor & Anna on their wedding anniversary!
Don't miss Gattinas Egypt Trip:
Excursion from Hurghada to Luxor – The Convoy
(Continues until Tuesday with Karnak, Valley of the Kings, Hatchepsut)