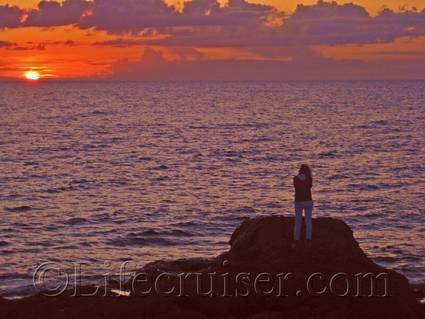 It's Saturday night and we've walked down on the rocks to the last rock, to watch the wonderful sunset down at the big rauk (sea stack) area Digerhuvud at Fårö island, Gotland, Sweden.
Can you get the feeling of freedom and peace standing there with the wind blowing in your hair and only the never ending Sea in front of you?
All sunsets are beautiful in it's on ways, but this is not the most beautiful one we have seen there. We goes there time after time, since the sunsets never are the same ones.
The slideshow below have some photos you've already seen of the sea stacks, but also some new really special ones.
Make sure to watch it to the end – it's worth it, I promise!
I suspect that those rauk areas will be listed on the World Heritage List in the future, they are that magnificent.
It's something very special with an area you know have been created during 430 million years, wouldn't you say…?
Lifecruiser ♥ Rauk Sunset