Lifecruisers reasons for doing a roadtrip sometimes are a bit unsual, this time to the Swedish Gherkin town about 100 kilometer from the capital Stockholm – to buy a vacuum cleaner – not gherkins…
It simply were the only nearby place that had the special supermodel we wanted, so off we went to the Swedish town of Västerås.
It was a bit late on the day so we had some kind of race against the time, since we wanted to take some photos in Västerås before the sun went down, which it does very early in the afternoon at that time of the year.
Västerås Old Town
Västerås is one of Sweden's oldest towns, which tracks back to the end of 13th century, but even the vikings were there before that. There are still some old buildings left in the town, even though many of them are gone.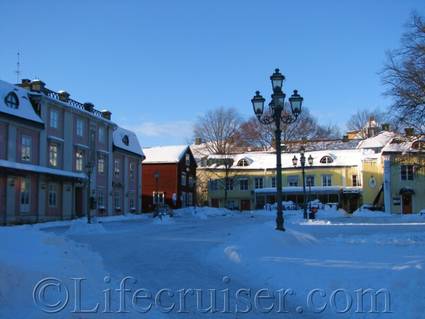 Known for gherkins
For us Swedes nowadays though, Västerås is mostly known because a special kind of midget gherkin (Cucumis sativus) or cucumber, were grown here from the 18th century and forward. It was a German gardener, Bernhard Johan Bohnsack that started it. The gherkin was sold all over Sweden and even to parts of Europe and is mostly used to be pickled.
That's also how the town got it's Swedish nickname Gurksta'n (The Gherkin town).
Västerås Castle
Västerås Castle is where the famous Swedish King Gustav Vasa held the reformation parliament in the year of 1527, that made Sweden switch from Catholicism to Protestant.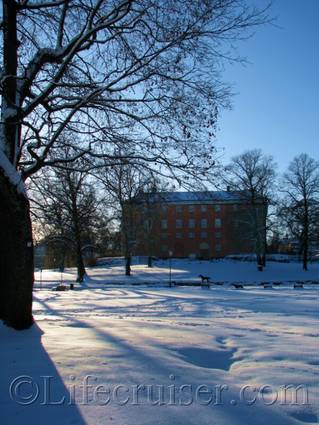 The Starred Cathedral
Västerås has a beautiful old Cathedral dated back to the 13th century that is worth a visit, you can see it in the end of the street picture below.
It's very beautifully situated with the creek floating by below. The Cathedral has got 3 stars in Guide Michelin.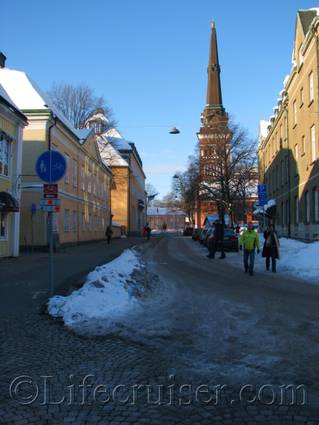 Inside there is another Swedish King buried: Erik XIV (dead by arsenic poisoning!). It's said that because the sarchophagus were too short they had to chop off his feet & put them aside his body…!!!
His current sarchophagus is made of black Carrera marble from Italy.
The Black Creek recreation area
It might be hard to believe when seeing these winter scenes, but it's very popular during the summer, when the area around the creek, Svartån, is filled with strolling people, choosing between different cafés and restaurants.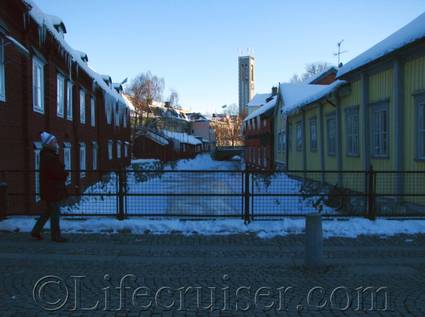 Boat life around lake Mälaren
Right outside the town is the lake Mälaren with hundreds of islands in the archipelago and there is a very active boat life in the summertime – as everywhere around Mälaren or the Baltic Sea.
Shopping: H&M's hometown
There are some shopping that can be done here, the Swedish company H&M was even founded in Västerås. Some specialist boutiques & large shopping arcades, even though we did not have time for it.
Photo slideshow of Västerås
It were getting darker, we had to rush our photo session there, but still, it will give you a pretty good picture of how this Swedish town looks like.
Slideshow with all the photos from Västerås town:
Unusual treehouse hotel
Thinking of going there? Where to stay? Our tip is: the unusual Hotel Woodpecker in the old oak tree!
Roadtrip mission completed
Did we get our wanted vacuum cleaner? Yes! And we're very happy with it, because it's quite the opposite from our old one that just did blow around the dust: it's actually working!
Very efficiently, we have to watch out or we'll be sucked up too! *giggles*
Lifecruiser ♥ Swedish Roadtrips