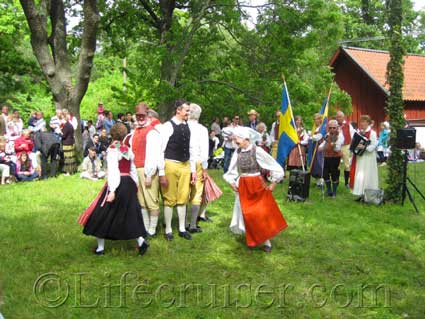 To celebrate Midsummer we did choose to go to the Midsummer meadow at Bromma Church School of all the places in Stockholm were there were Midsummer celebrations. The reason why we did choose this place was because of the old surroundings – and the folk dance.
We arrived there just in time to not miss the most important: the folk dancers from Bromma folkdansgille. The sun did shine through the clouds and the festive atmosphere made us in a very good mood.
We did check out the surroundings too and as long as we were there, the weather gods were with us, no rain until later when we had gone home!!!!
Bromma church is situated in the western suburbs and is one of the oldest in Stockholm. It has also been voted the city's most beautiful by Stockholm's Radio listeners once in 2006, another reason for us to be curious.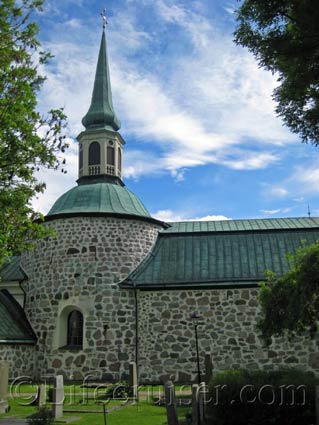 The oldest part is the round part of the church, which was built around the year 1160 or 1170 and that is also the part of the church which I love the most. The baroque hood with the 8 squared lantern roof and high steeple were added at 1681, other parts at different times.
The church is not only beautiful on the outside, it also contains medieval paintings from the late 15th century, so it's worth taking a look inside too.
See also Lifecruiser photo slideshow Midsummer 2009 with more photos both of the folk dancers and the church, including some photos of our dinner at home.
How to get there: Take the metro (T-bana) to Brommaplan, then Bus 117 to Gliavägen 100, Bromma kyrka.
Lifecruiser ♥ Bromma Midsummer