If there is one tradition that is really Swedish and most Swedish people really celebrates, it is the traditional Midsummer Eve celebrations. The 2011 Midsummer went on like usual.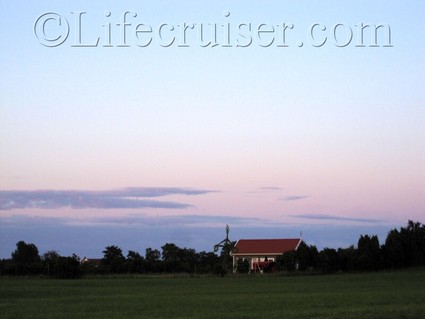 This is not the house where we did celebrate our Midsummer, we still are at our summer island farm it is only a house nearby we happened to walk by and I thought I should show you the traditional Midsummer pole – you can spot it left to the house.
Still you can see some of the Midsummer poles around Sweden, but it is getting more and more unusual as well as the dancing around it that used to be. Old traditions is vanishing during the years and new ones are created.
The snaps tradition to the herring still stands though… It was a bit too much celebration with alcohol for some persons according to the newspapers – as usual that too – but all in all a good celebration anyway.
No wonder if people want to celebrate summer in this normally cold country, we have to make the most over the few summer months we have here!
Lifecruiser ♥ Swedish Midsummer
Earlier posts about Swedish Midsummer:
Midsummer night light sight
Swedish Midsummer festivities Bromma Church Stockholm
Happy Midsummer Stockholm
Our Midsummer celebration trip 13 facts list
Midsummer flower power love
Thursday Thirteen Midsummer