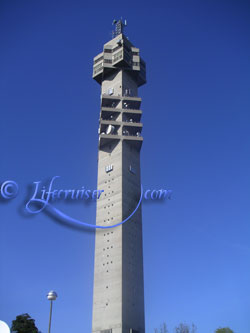 Yesterday was a day with very nice spring weather here in Stockholm, so we decided to spend the day out and went to pick up my oldest sister Susan to come along with us.
We had already decided to go to a place we had not been to in years and let it be a surprise for her as she loves surprises

Meet Kaknästornet in Djurgården (national city park in Stockholm) with it's 155 meter/508 ft (170 with the mast counted in) and 34 floors – one of Scandinavia's and Northern Europes tallest buildings where we went yesterday.
The name origins from Kaknäs, which was an ancient village name from the Iron Age, if not even earlier, which probably were located at this spot where Kaknästornet stands today. There is a preserved field with village graves a bit up in the woods at Kaknäsvägen (the Kaknäs road).
The tower is created by the architects Hans Borgström and Bengt Lindroos in Neo brutalism style. I guess it was in the time, as the construction start was in 1963 and completion in 1967.
Actually, I find it rather ugly myself. Maybe they were a bit science fiction-inspired from the fact that the U.S. prepared their first moon trip during these years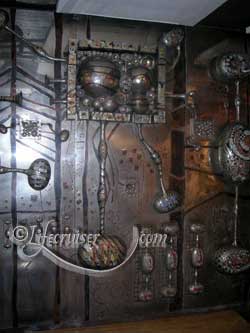 This artwork is on the walls in the entrance they have , but I don't know anything more about it.
It's also the hub for Teracoms (national Swedish broadcasting company) TV- and Radio traffic in Sweden. From there every connection and transmitter is controlled and most of the satellite communication is by the satellite station Skyport Kaknäs.
In the tower there is some Teracoms staff, but as a visitor you never see any of them. I didn't even know that there was any staff there until I read it in internet several years ago.
It's open for the public (small entrance fee) to go up at the 30th floor with one of their elevators which is very fast, as a matter of the fact it's so fast that you get ear blockage. I can imagine that this is not anything for a person that is afraid of elevators even if these ones are really safe and controlled!
Well up there you can enjoy and admire the magnificent view over Stockholm city with surroundings and perhaps even a glimpse of the inner archipelago. In good days the sight is about 6 Swedish miles (37,2 miles).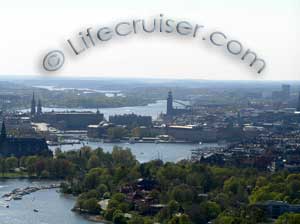 This is the view of the city area, where you can see the tower of the city hall to the right and the big square building to the left is the Royal Castle.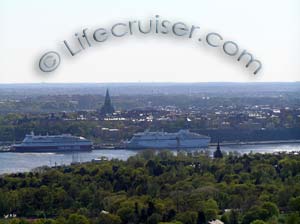 As you can see from this view there is quite big cruise ships traffic into Stockholms quay called StadsgÃ¥rden. These ones destinations is to Åland and/or Finland and is not the biggest of them.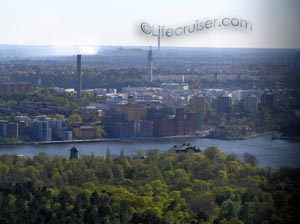 There was obviously a fire going on in the south suburbs of Stockholm somewhere as you can see up in the left corner. In the front of the photo, partly hidden by the green are, is Waldemarsudde, a popular spot in Djurgården to visit, since it holds one of the most-visited art museums in Sweden.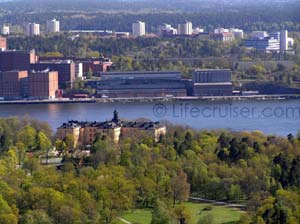 The big building in the lower part is a school for deaf and hard of hearing students, Manillaskolan. On the opposite side of the water is Nacka municipality.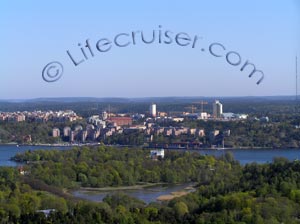 The white building you can spot in the middle of all the green in the point of land, is the wellknown Thielska Galleriet, another art gallery. We're going to visit that one another time since it's the most gorgeous architecture too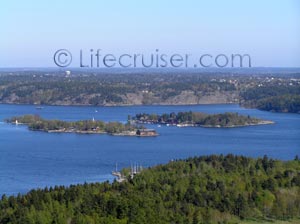 Fjäderholmarna is the name of the islands you see here and it's a very popular picnic area, where people take a boat from the city area. There is several restaurants and cafe's with very fresh fish dishes of course. (There is also a whiskey destillery, where they produce Swedens only whiskey brand "Mackmyra"!)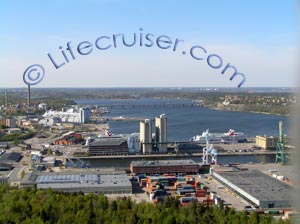 One of Stockholms ports, Värtahamnen, where even the biggest cruise ship to Finland departures from. (Ugly as usual, these ports…)
As you may have noticed, Stockholm is surrounded by water and actually consists of 14 islands which is combined by 53 bridges. So there is a lot of cruising going on in these area. A lot of Stockholmers has an own boat they take a ride with out in the archipelago (Baltic Sea) or Lake Mälaren.
There were a bit difficult to get good photos, since it was quite windy up there and it's fenced with bars on the outdoor top floor to prevent people to jump from there with or without parachutes!
I remember the first times I visited Kaknästornet, I was so afraid when stepping out there on the top, that I just stood stiff like a stick right at the walls, only moving very carefully. Nowadays it's no problem for me at all – even though it sometimes can swag quite a bit!
In the tower there is a restaurant and cafe where you can enjoying your brunch or dinner accompanied by the magnificent view over Stockholm city.
Which we of course did since I'm the hungry monster… *giggles*
…and as the hungry monsters we all obviously are, none of us remembered that we should take a picture of the plates BEFORE starting to eat, but at least this is an improvement in some sort since we use to forget it totally! *lol*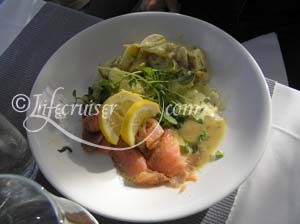 Susans choice: Raw Spiced Salmon with a creamy sauce called Hovmästarsås in Swedish (I have no idea what to translate it to) and fresh potatoes and mineral water to drink.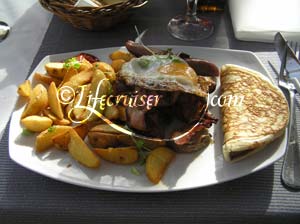 Mr Lifecruisers choice: Swedish plain food, such as sausages, bacon and egg, potato widgets – and a pancake at the side which is not usual at all over here in Sweden – and a beer.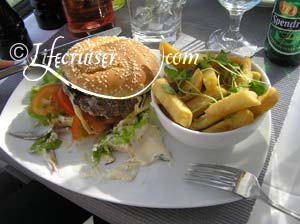 Captain Lifecruisers choice: A Campari as a starter

followed by a cheeseburger with pommes stripes and a beer.
Though since we were a bit late and they close at 5 p.m. already in Sundays, we had to choose from the brunch menu only.
Captain HighTower Lifecruiser