The golf season has started in Sweden now. Some golf courses may not still be open and there may be special rules, but it's starting. Many golf courses has to step up the efforts to keep their players happy with special events too.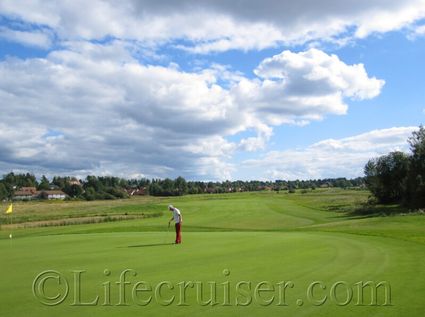 The photo above is from last year, from Rotebro Golf club's pay and play course, right outside the capital Stockholm and in what we think is one of the best 9 holes golf courses we've seen in the area.
The golf in Sweden has had a decrease the past years and the golf clubs has to arrange all sorts of contests, events and competitions to keep the golf players interested. Of course, the economical crises has had influence too.
Mr Lifecruiser tried some new clubs which a Cobra seller where demonstrating and found a new driver, a 9,5 Regular that he were very found of, but did not buy.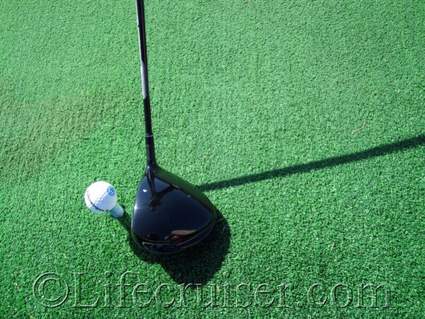 Still the sales person gave him 2 free greenfee tickets to a golf course in southern Sweden, so I guess we now have to take a roadtrip south some time in near future.
He also succeed to hit a special target (an open mouth) when chipping and won a driving range golf ball card to get 3 buckets of balls for free – very nice for us budget ones.
This year he has only paid 350 SEK (37 Euro or 55 USD) for a golf membership in Flemminge GK in Sweden, since we're not sure how much money and time we will be able to spend on golf.
Playing golf does not have to be expensive…
There are a lot of golf courses in Sweden that are in really acceptable price levels and shape and we're actually quite surprised that there isn't more tourists coming here to play golf.
We will perhaps come back to that in another post in the future.
Lifecruiser ♥ Swedish Golf Courses