The royal wedding between Crown Princess Victoria and Mr Daniel Westling on 19th of June, 2010, is an unique event without doubt. It will be the first wedding of a female successor to the throne in Sweden's monarchy.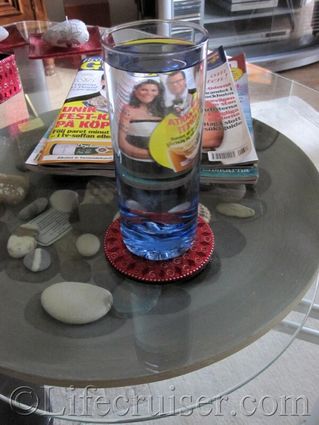 It is also a historic event because when The Crown Princess Victoria becomes the Queen of Sweden later on, she will be Sweden's fourth female regent. Mr Daniel Westling will be granted the title Prince, Duke of Västergötland when they've got married.
The wedding festivities has already started this Wednesday with a dinner aboard the East Indiaman Ship of Götheborg which we saw in Visby earlier, now at Skeppsholmen, with the County Governors as hosts.
Yesterday there were a private dinner held at Drottningholm Palace with the The King and Queen as hosts. There were lots of traffic blocking when all the guests arrived. We nearly got stuck in the traffic ourselves, but made it just with seconds.
Tonight there will be a Government reception with about 700 guests at the Stockholm City Hall – called a marathon in handshaking – with dinner for 300 guests followed by a concert with 1600 guests enjoying 290 artists in the Stockholm Concert Hall. The Swedish Parliament is host.
The concert will be filled with popular Swedish artists, among them ABBA's Benny Andersson who is said to have written a special tribute for the Crown Princess couple. The Crown Princess has especially wished to hear The Look (Roxette). Per Gessle is invited.
The Wedding guests are not just personal friends or family, they are from the courts of Belgium, Bulgaria, Denmark, Finland, Greece, Iceland, Japan, Jordan, former Yugoslavia, Liechtenstein, Luxembourg, Monaco, The Netherlands, Norway, Romania, Spain, UK and Germany as well as a lot of diplomatic's from other countries.
Can you imagine being a man of the people and marrying into a Royal family? Or being one of Daniels family and socializing with the royal wedding guests? I'm not sure I would like to be in their shoes.
Can you also imagine all the preparation work for this kind of wedding? I mean, it's lot of things to do before a normal wedding, but a royal? Phew! I heard that about 40-50 people has been occupied just to arrange the flowers for the wedding! That's just one small detail of the wedding.
Of course there have been all kind of discussions about the wedding, everything from the wedding guests invited to the cost of the wedding. Whether or not it's appropriate bla bla. I say: down with the negativity. This is a once in a lifetime happening: let's party!
The royal bridal couple will travel in a grand cortege through Stockholm central city after the wedding tomorrow in Stockholm Cathedral and already today, this route is blocked for a rehearsal of the cortege. Nothing is allowed to go wrong in an important, historical day like this.
After the cortege they will make a journey across the Stockholm Bay on the gorgeous Royal Barge of Vasaorden (also used at the Kings wedding) accompanied by salutes, military parades and other musical tributes.
I can picture the Kings wedding at the same date in 1976 very well because I had a summer job back then at the Kodak photo lab. What do you think were on all those photos we were processing? Yes: The royal wedding of course!
They have to make an important decision for the cortege: will it be in an open or covered coach? (See a drawing of the Swedish Royal Wedding Coaches here)
Today it's the most awful weather, rain and thunder, not exactly showing Stockholm from it's best side and the weather reports for tomorrow are not that promising. It will be interesting how many brave persons gonna be out there IF it rains…
Not even the royals can order beautiful weather on their wedding day! *giggles*
Even without bad weather forcing them to choose the covered coach, it will probably be very difficult to get a glimpse of the happy married couple. If any glimpse I guess it will be on a distance. That is making this a very difficult photo session too… I'm not sure we will even try.
Of course there will live broadcast of the wedding on Swedish television, this is the biggest event that has ever been covered in Stockholm, but also in several places in Stockholm City there will be large screens with live broadcasts of the The Crown Princess Couple's wedding.
If you're in Stockholm you will find those large screens at Kungsträdgården, Karl XII:s torg, Skeppsbron and Galärparken at Djurgården.
There are of course lots of tourists in Stockholm right now, but not so many as expected actually. I guess that the bad economy and the previous ash clouds from Iceland had some influence. We're noticing a lot of Spanish tourists though.
Lots of wedding souvenirs are being bought, everything from porcelain to silly things like dish cloths (!), tea bags and fake Tattoo's of Victoria and Daniel… *giggles*
There are many events in the city to celebrate (even if you are not invited to the royal wedding party!) as it has been all the time since the national day of Sweden the 6th of June up to now. Music events, fun for kids, special exhibitions at the museums etc.
Even a giant public Disco party at Gustav Adolf's Torg, one of the squares in the city, beginning at midnight! Imagine dancing in Stockholm by night! Yay!
Most of all, this reminds me of our own wedding that was hold at Drottningholm Palace Church in 2004!
We even was tempted to send an invitation to the Royals to our wedding, since they have a special entrance to the Palace church from the Palace where they live. Do you think they would have accepted the invitation? *giggles*
When we stepped out of the church after our wedding ceremony, we actually saw Princess Victoria in a car, coming home. We saw it as a lucky sign. I hope they get their lucky sign.
If you're visiting Stockholm tomorrow you find a lot of activities here: The Love Stockholm Program for the 19th of June.
To be continued….
Lifecruiser ♥ Swedish Royal Wedding