Haga Palace, north of Stockholm city, will become the Swedish Crown Princess Victoria's home after she has married her beloved Daniel. We went there a winter afternoon for a walk - it's a well known recreation area for Stockholmers.
Haga Palace were built in 1802-1804 and were during the 19th century home for different persons from the Swedish royal family. Our current King Carl XVI Gustaf did spend his first years there together with his 3 older sisters, popular called the Haga princessess, while Stockholm Palace were renovated.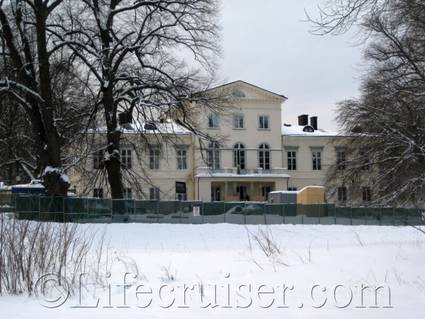 It has been used as a foreign guest residence by the government, but is right now being renovated. The Swedish government is giving back Haga Palace to our Swedish Crown Princess Victoria and her fiance as a wedding gift. They are getting married in June.
They are moving the walking path which up to now has been passing by very close to the palace and will be behind fences to protect the princess. Later it will be possible to stroll by down at the lake instead.
There is a pavilion nearby: Gustav III's Pavilion, built 1787 with instructions from our favorite Swedish King, Gustav III and an excellent example of the European neoclassicism of the late 1700's.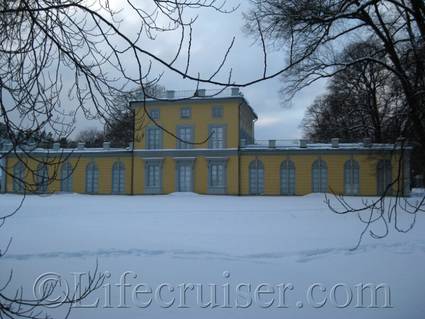 Despite the fact that this is a pavilion and not really a palace, it belongs to the 10 Swedish Royal Palaces.
Up on a hill with a view over the lake, The Temple of The Echo was built in 1790 as an outdoor summer dining hall, especially King Gustav III loved to dine outdoors. Who doesn't - and with that surroundings!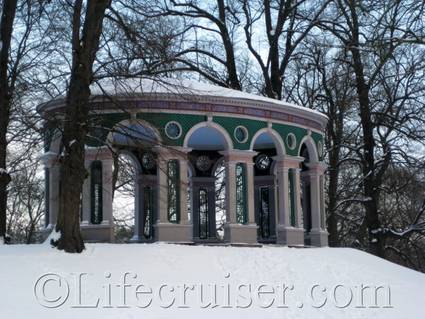 Today the Echo Temple is a very romantic place where you even can be married. If you're already married, like we are, I recommend standing in the temple shouting to each other: I love you! Listen to the echo…
Our favorite building in Hagaparken though is: The Copper Tents from the year of 1787, so colorful and different from our other buildings we use to have in Sweden with those marvelous decor painted copper facades.
It was from the beginning stables and lodgings for the guards, but today it's a park museum, a cafe and a restaurant which is an excellent place to rest after a walk in the park.
The Haga Park is part of the worlds first National City Park together with other park areas of Stockholm and really worth a visit, there is more to it than we've mentioned here.
Our tip is: go there in the summertime when you can have a romantic picnic in the park without freezing your butt off… *giggles*
Click to see Lifecruiser Haga Park photo slideshow.
Lifecruiser ♥ Haga