If trying to find something really Swedish and well known around the world, it has to be Volvo – if not talking about Swedish meatballs or blond, long-legged Swedish girls…
I simply had to take a shot of this poster at the garage where they changed to summer tires for our car – since they didn't have any Swedish girl posters (lol).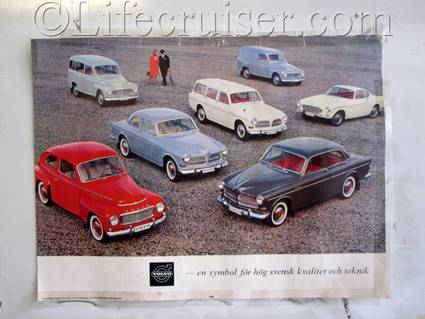 Volvo… a symbol for high Swedish quality and technology
I want that red Volvo PV in the left corner. I want it badly. Did I tell you that last summer we almost did bid on a Volvo PV at a countryside auction at our summer island?
It was so close, we had to bit ourselves in the tongue to not make a bid. It was the practical side of us that won – where would we put it when back at home in the city since we have no garage? *sigh*
I've actually been taking numerous road trips in Sweden in a Volvo Duett (upper left corner), but a red one. They're not so comfortable to go in, but very practical when it's comes to stuffing a lot of luggage.
Which one would you want to have…?
Come on, I know you want to speed along the coastline in one of those cool cars, dressed in vintage clothes and pretend to be in the good old days…
Lifecruiser ♥ Swedish Classic Cars