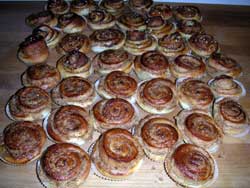 Why not surprise your hon with some bun fun?
Have some Friday fun! Bake buns together! Could be really fun, especially if you both are baking-buns-virgins

Having problems to get your partner interested in baking buns? Read this secret tip: Bake nude! Works all the time – don't get too hot though


Our Swedish Cinnamon buns
Ingredients:
50 g yeast
150 g butter
0,5 L milk
150 ml sugar
0,5 tsp salt
(1 tsp cardamom, optional)
1,2-1,5 L wheat flour
Filling:
75 g butter
50 ml sugar
50 ml ground cinnamon
(1 tbsp vanilla sugar, optional)
For brushing:
2 egg
(granulated sugar, optional)
Melt butter in a saucepan, pour over milk and warm to 37°C (106°F, finger warm). Pour the mixture over the crumbled yeast, add sugar, salt (and cardamom if desired – I don't), mix. Add flour, work the dough smooth.
Allow the dough to rise to double volume under a kitchen towel in a draft free spot for about 30-40 minutes.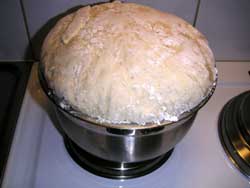 Kneed and divide in two. Roll out the dough into two rectangles about 60 cm long and 0,3-0,5 cm thick. Mix the butter with the sugar and maybe the cinnamon if you're sure of the amount cinnamon you want and spread the rectangles with it.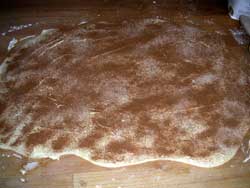 Roll them up and pinch rolls together at seams. Cut rolls into rings, 2 cm thick, place the rings with the cut surface up in paper moulds and let them rise under a kitchen towel again for about 30 minutes.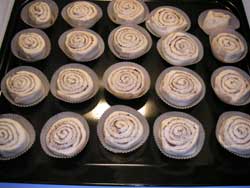 Brush with the beaten eggs, sprinkle with granulated sugar on the top if desired and bake in the middle of the oven at 250-275°C (482-527°F) for 5-10 minutes.
To alternate if you bake often, you can change the filling to hazelnut mix that's available ready in the stores, mix that with some butter to make it smooth and spread it on the dough.
Y U M M Y A L E R T S !
TIP: Hand over a towel for all the drooling when you can feel the smell from the buns in the oven…
HAVE A BUN FRIDAY