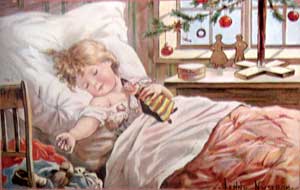 Jenny Nyström 1906
This is how half of our xmas day has passed! We woke up at 3 o'clock in the afternoon! Man, were we in a big need of sleep and relaxation….!!!!
I said xmas eve: "tomorrow I'm gonna sleep until I wake up, without any alarmclock for once". I think I'll make this as a xmas tradition.
I'm so glad that we didn't have to go to the julotta – a Swedish old-fashioned xmas tradition to go to a very early church service on Christmas Day morning. From the beginning it was 4 o'clock then it was changed to 6 o'clock in the morning.
In the old days they were going there by horse and sleigh and it was the most beautiful horses and harness they used. And that fact may have been the only way to get me there in that hour in the morning…
This day will go in slow motion over here. We're having real xmas peace. Except for my terrible headache I have, that's not peaceful at all

Yesterday morning we did get xmas stockings – not from ourselves or Santa, but from my oldest sister. She is just so sweet. She loves xmas, has always done. She wanted to give us a xmas like in the childhood.
There was magazines, candy and a photo frame with a part of a big xmas poster that we used to put up on the wall when I was a child. The rest of the poster she gave parts of to my other siblings and mother too. As memories of old times. Great idea really, she is very creative.
Xmas eve we spent together with my Mom the whole afternoon and later in the evening at my brothers home. We were about 20 persons there with both my family and my sister in laws. Everyone was bringing some traditional xmas food with them.
What is traditional Swedish xmas food and drinks?
We'll start with some glögg – mulled wine with some gingerbread cakes. In the glögg there should be a lot of raisins and almonds and a few drops of cognac.
Instead of the turkey we serve xmas ham as the main food, even if some people serve turkey too. There must be mustard for the ham. At the side of the ham we eat boiled potatoes or turnip & potato mash. Some people even have au gratin.
Other typically food that could be on the xmas dinner table is: pickled herring, "sillsallad" – a kind of beetrot salad with herring, raw spiced salmon, smoked salmon, smoked eel, luthefish, egg halfs with white roe or shrimps, pigs trotters, sausages, small links, Swedish meatballs, pork ribs, red cabbage, brussel sprouts, malt bread, Rice a la malta – and rice pudding with a lot of cinnamon.
Janssons temptation is a gratin type dish of tinned sprats cured in brine (kind of herring), onion & sliced potato that most certainly is there too, which by the way Mr Lifecruiser is an expert on making

Normally I don't like Janssons, but I do like Mr L's!
To the food we drink Christmas brew (dark beer), pilsner beer, lager and schnaps. For me, the schnaps must be Aalborgs akvavit from Denmark, but I know that many drink SkÃ¥ne akvavit from Southern Sweden. Together with the schnaps we always sing traditional xmas carols for every toast we make. The youngsters always think that this is very embarrassing… *lol*
I'm sorry I don't have any pictures – I'll have to remember to take photos next year

To the coffee afterwards we eat Lussekatter and maybe have a whisky or cognac. There are also stewed fruit, fig, jelly, candy, toffee, hazelnuts, walnuts – all kind of nuts (which reminds me of the fact that we have lost our nut cracker!), raisins, marzipan, ice chocolate and lots of chocolate boxes.
No wonder people need to get out walking off all the fat…
Something else that has been very traditional is to light sparkler's, but I hardly don't see that any more over here.
We do have the tradition with the mistletoe over here too, but it's not that spread as in the U.S. and personally we don't have it in my family. I can't remember that we ever had, but maybe I was too young to remember.
Mr Lifecruiser and I don't need any mistletoe since we're kissing all the time anyway

There is one thing on the TV that has been almost holy and that is a special program with Disney's movies that Swedish TV is broadcasting at 3 o'clock with classic's like Kalle Anka (Donald Duck), Musse Pigg (Mickey Mouse), Pluto and Ferdinand (the bull sniffing the flowers in the cartoon).
Santa comes to deliver the xmas gifts after the xmas dinner in the evening and only if you've been nice during the year of course. Often it's some one of the family members that's dressed up as Santa, but some familys talk somebody else into come and play Santa, so the kids won't recognize him too easily.
An old tradtition is to ryhme to every gift, but there is many familys that don't do that anymore. As there is many familys that just deliver the gifts without any feelings at all, just ripping up the wrapping without any feeling. It's a pity. It's more exciting to handle over one gift in a time and that person have to open that one before the next one is handled out.
Though we have skipped the xmas gifts in that way, we only buy for our nearest ones, so we didn't have any gift opening over at my brothers place since we are too many. We opened our xmas gifts from Mr L's daughter and our best friend Miss Ass. Lifecruiser when we arrived home again.
We had only wished for lottery tickets since we live compact living and don't want any extra things to take up space here – and we got lottery tickets in mass! We won a smaller amount on one which we're going to buy new lottery tickets for, so we still have that chance to become millionairs

We had such a wonderful time with a really wonderful family and relatives. No fuss, no argues only a very merry group of happy persons enjoying xmas traditions together.
That's a typical Swedish xmas eve in a nutshell.