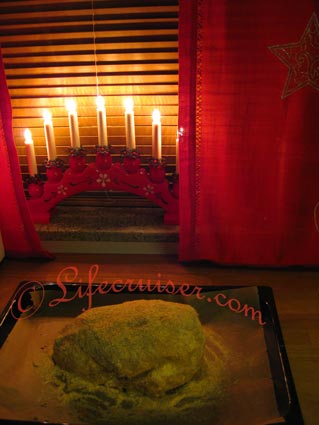 Almost all our Christmas dinner preparations are done. This is our ham, which is the main thing on the Swedish Christmas table. No Christmas without the ham.
Nowadays we cheat a bit and buy ham that already is cooked, but we have to make the frying with eggs, mustard and bread crumbs on the top. We use strong and sweet mustard mixed with ordinary mustard.
We've tasted the ham, it's sort of a tradition to do so the night before, on Swedish Crispbreads with mustard on the ham and I tell you, this years ham is delicious!
To go with the ham sandwich we have to drink Julmust, a special Christmas brew kinda like beer, it contains malt, but it's sweet like a soft drink and with no alcohol.
Tonight we've done the meatballs too. Yes, home made meatballs, nothing else will do. It's such a big difference in taste that you can't really compare pre-made bought in the stores.
You can read Lifecruiser Christmas post 2007 to get all the details of our Swedish Christmas dinner, even though our dinner is just a small share of what others may have on their table.
There you can find the recipe to Swedish meatballs and also Jansson's temptation, which also are a must on the Christmas table in Sweden.
This year I'll try to remember to take photos of the Christmas table with some food on it – before we eat it…. *giggles*
So there will be more photos later, both of the food and of Janes Christmas gifts, because they aren't many, but they took me about 6 hours to wrap!!! With pauses and creative thinking…
We're celebrating Christmas Tuesday 23 December already, together with hubby's daughter Jane as usual, since she celebrate with her Mom at the 24th. We'll celebrate on our own (eating all day long!) at home the 24th.
The 26th we'll celebrate Christmas together with my siblings and their families at my brothers place, something we call knytkalas in Sweden, which means that we share, every one is bringing something for the Christmas table.
Mr Lifecruiser and I bought ourselves another Christmas gift:
- We booked a new trip today! Hurray!
See I told you that you'll never know with us. We're leaving 30 December again and will be away for two weeks. Don't you see my big smile from ear to ear???!!! *giggles*
I'll tell you more about it later, not only to make you curious, but also because I want to finish my posts about Vienna (2 more to go) before taking off again.
If you're not stopping by any more before Christmas:
A MERRY, MERRY CHRISTMAS from all of us to all of you!
Lifecruiser ♥ Christmas