Mr Lifecruiser now reveals his very top secret recipe, the Swedish BooB Bombshell as we named it – for obvious reasons! *giggles*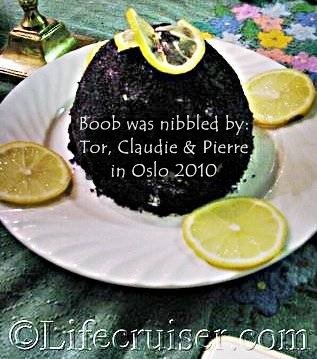 Swedish Bo(oB) Bombshell Recipe
Boob Ingredients:
400gr Philadelphia Cream Cheese
2 dl Creme Fraiche
1 big yellow onion
1 small can of black lumpfish roe
More decoration if wanted:
Lemon slices
Put the boob upon:
FinnCrisp Original (thin) crispbread slices
Make the boob like this:
Manually mix together the Philadelphia cream cheese with the creme fraiche and then the fine chopped onion. Form a boob of the ingredients on a cold plate. Start spreading lumpfish roe over the top of the boob and continue around the whole boob.
If you want: place one or a couple of lemon slices on the boob top.
A must: Spread some of the boob on a thin FinnCrisp crispbread slice. Very nice taste combination.
ENJOY YOUR NIBBLE!
Preferably together with Champagne!
Lifecruiser ♥ BooB