A Swedish vintage suitcase marked with Swedish American Line Gripsholm, which cruised from 1925 to 1954. What a sight – found at a vintage store near Stockholm this autumn.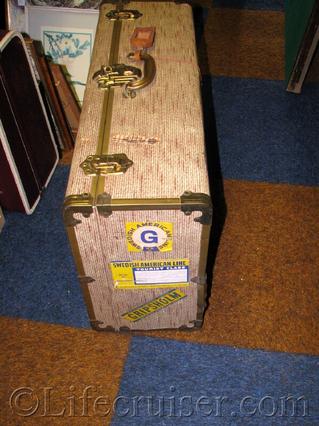 From what year we couldn't tell unfortunately. If I had any space left at home I would have bought it. As the travel freak I am, I also adore all vintage suitcases.
Think about all the fabulous travel stories they could tell if they were able to speak!
©Lifecruiser Love Vintage Suitcases

Other vintage travel related posts by Lifecruiser:
Painting for travelers: Marilyn Monroe in New York
Ship Deck Passenger Paintings
Travel Photo: Vintage Sea Boots
Vintage Travel Sheets Anno 1941
High Life Cruiser Champagne of Beers Classic
Fly to party with the devil – Swedish Easter Island