In the South West Coast of Tenerife, about a mile South of the wellknown Playa de las Americas, there is the popular tourist destination Los Cristianos.
An old fishing village from the beginning, now growing tourist spot – as so many other places in Spain.
As a matter of fact, it was because of a Swede who came there in 1956 suffering from multiple sclerosis, hoping the climate would help, that tourism in Los Cristianos developed. The word spread and it became a rehab resort for many Swedes and still is.
That's also why the main street in Los Cristianos is known as Avenida de Suecia (Avenue of Sweden) and there is the Casa Sueca, a Swedish Lutheran Church, down by the seafront.
However, we didn't know that fact when we came there and I only took photos of the other church in Los Cristianos, which actually were the first thing we saw there since we were able to find a parking spot right at the side of the church.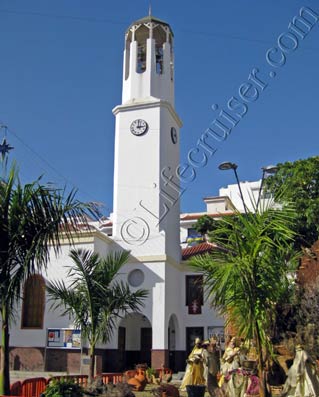 As you can see in the bottom of the photo, there is a Christmas scene there, a nice sight at the square in front of the church.
Of course there are opportunities for a lot of shopping there too, though as usual, I were hunting for some where to eat and therefor only bought a pair of shorts (which you will see in another of my upcoming posts).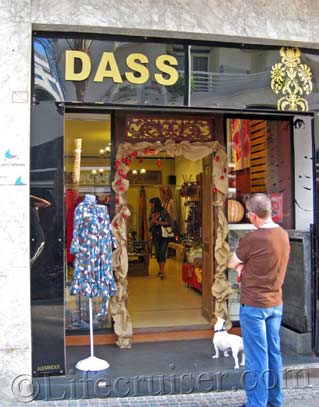 Now, you might wonder what's special with the photo above? It's the name of the shop: DASS, which actually is a Swedish slang word for: toilet!!! *giggles*
Los Cristianos also got a lovely pedestrian walkway – wheelchair friendly – with nice cafes, which runs along the shore and port. There are lot of people strolling around enjoying the sunshine.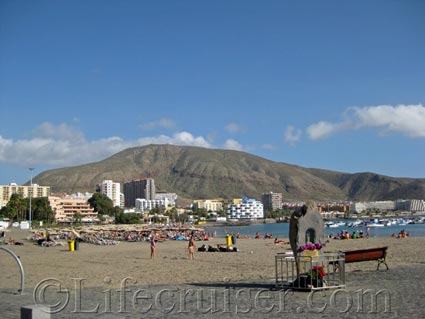 There are several beaches, including a more new and man made beach: Playa de las Vistas, that one as well as Play de las Teresitas as I mentioned earlier is covered in sand imported from Sahara.
In their rather small port, the ferries to the nearby islands of La Gomera, La Palma and El Hierro is embarking. Oh, and even boat trips for dolphin and whale watching.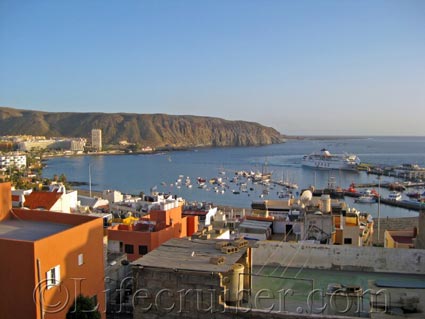 We didn't go over to La Gomera, despite that we had thought of it earlier, because it were very cloudy over La Gomera every time we were close, so we skipped it.
Instead we sat down at one of the restaurants at the seafront, enjoying a wonderful and relaxed dinner together.
We can't always run around seeing as many things as possible, we have to stop and really take in the wonderful scenes we're offered at the moment also, right?
Lifecruiser ♥ Los Cristianos

HOT TIP! If you plan to go there, you can find many good Hotels in Los Cristianos to affordable prices here, so be sure to check it out before you book anything anywhere else!