We're away the 1-8 of May to a secret destination together with hubby's daughter Jane, but before I go I wanted to show you something from Sweden's first licorice festival that were held at the restaurant "En trappa ner" in Stockholm the 25th of April 2009.
The more unusual event were arranged by Lakritsbutiken and as the big licorice lovers we are, we had to go there of course!!!
We love initiative like this one, as well as the Chocolate Festival we were at last year. More festivals to the people!
The licorice that we placed at 1st place is from Ryfors Konfektyr, we loved several of them actually, but this salty one is a clear winner, absolutely addictive: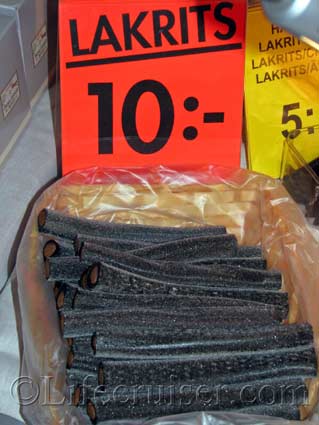 Licorice is very popular in Sweden and we eat an average of 1 kg per person and year, but did you know that humans has been eating licorice for about 4000 year…?
There were even licorice from other countries like Italy, Finland and as this one below from Nammi, Iceland, called Djupur.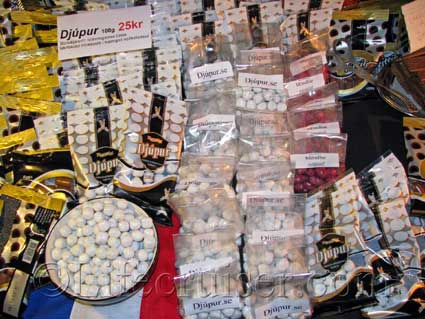 It's covered with white chocolate and even though chocolate and licorice may not sound like a tasty combination, it really is dangerously delicious!!!
It was a total success, new visitors were arriving all the time, so hopefully this will be an annual event.
Keep an eye on Lakritsfestivalens Facebook group to get info about when next event is.
Just be aware of that eating much licorice is not so good for people with a high blood pressure – and it will have a certain effect on your stomach too… *giggles*
Click to see Lifecruiser photos from the licorice festival.
Lifecruiser ♥ Licorice