Did you know that Sweden has the world largest model planetary system? Neither did I when finding my discovery: Sweden Solar System, which is spread in various places in Sweden besides in the capital city Stockholm.
While you are on sightseeing around Sweden, you might want to visit a more scientific and unusual Swedish top tourist attraction, like The Sweden Solar System – the world's largest model of our planetary system (scale of 1:20 million!).
I instantly knew which spherical building would be representing the planet of Sun: it couldn't be anything else than The Ericsson Globe Arena in Stockholm – the worlds largest spherical building.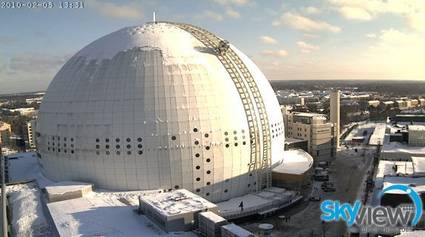 The inner planets like Mercury, Venus, Earth, Moon, Mars and some asteroids are placed in Stockholm and Jupiter at the international airport Arlanda.
The outer planets and asteriods are spread across Sweden at places as Uppsala, Skövde, Karlshamn, Delsbo, Gävle, Söderhamn, Knivsta, Härnösand, Luleå, Umeå and Kiruna.
A very nice touch is that each planet station have exhibits about the astronomy science and also related mythology and culture.
Click this link to find the list where you can find out where all the Sweden Solar System's planet objects are placed.
©Lifecruiser Love Unusual Attractions
Related Travel Sweden Attraction Tips: