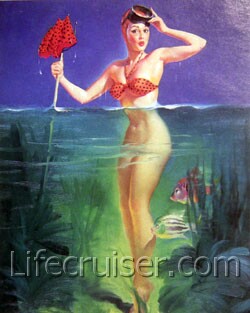 Gil Elvgren, 1952.
© BROWN & BIGELOW INC, ST. PAUL, MINNESOTA
SURPRISE!
Yes, our blog design goddess Leanne has saved us once again, getting our third blog design in the water – similar to the red Lifecruiser blog design she made for us, but yet SEA FRESH and GORGEOUS!
We don't only LOVE it, we ADORE it – both Mr Lifecruiser and I. Plus: I get to be a mermaid! YEAHHHH!
This time she placed me to be spotted directly, so you don't have to sink down to the sea bottom to see me.
You'll never know what she'll float up to the surface with. She really know how to salvage you from the decompression sickness you get from trying to find a nice enough cover out in the big deep WordPress Ocean and you have ended up on the sea bottom with nothing to put on you…
Have a look around in our shining new Ship quarters, but stay away from our big stock of Dom Perignon we keep in the cargo room – that's for our Ship Party in the upcoming Saturday evening!
You can see the time on the ship & the cruise weather since I installed it in the sidebar the other day.
All bloggers are welcome to walk the plank… eh… I mean the deck…. *giggles*
Dress Code: None. Nude or rude, doesn't matter

*Honking the Ship horn for Lifebuoy Leanne*
Captain ♥Blog Lifecruiser
Cyber Cruise to:
Salta City in Argentina
Spanish Tapas night