This is day 5 of our Kauai Escape posts – a series of posts that span over a week exploring this wonderful island.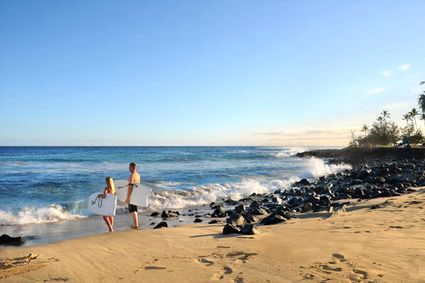 Day 5 – Sunny Poipu
After being completely familiar with the north end of Kauai, it is time to go to the sunny south side. As a note of reference – driving from north to south on the island takes roughly an hour.
The nickname of the south side of the island is the "sunny side". As such, today is peaceful day at Poipu beach. The beach is known for its appeal to groups of travelers – and we're no exceptions.
There is safe swimming and full amenities in the adjacent park. We're enjoying a picnic in the shade, Frisbee on the grass, and swimming in the gorgeous water.
Across the way there is a quaint little sandwich shop called Brennecke's – a good stop for sandwiches at lunch – Yummy!
Lifecruiser ♥ Sunny Poipu
To be continued tomorrow….

Earlier articles:
Princeville Zipping and Rowing – Day 4
Ke'e Beach – Day 3
Na Pali Coast – Day 2
Kauai Escape – Day 1