For fans of the famous Millennium Trilogy by Stieg Larsson, it might be a thrill to travel to Sweden and take the Stockholm Millennium Tour – a guided tour around the places from the Millennium book (and now film) series.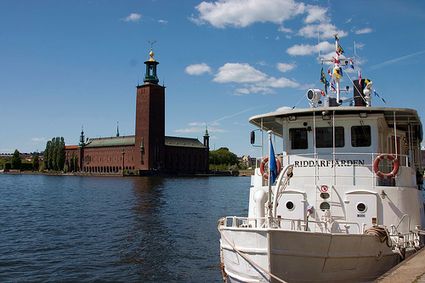 Photo by
Jimmy Harris
The Millennium Tour includes several streets and beautiful views of Riddarfjärden in Stockholm City Center as well as the frequent visited (not only by Lisbeth Salander) drinking place Kvarnen – Swedish for "The Mill".
The tour goes through Södermalm, which earlier was considered to be a lower working class area of Stockholm City, but now is a more blended area with many cool pubs and social places to hang out except for the many wonderful street views and architecture sights.
The first film in the series that was re-done with American actors instead of the Swedish was The Girl with the Dragon Tattoo (Dec 2011).
The film has scenes from the following specific places around Sweden:
Drottninggatan, Uppsala county
Ingarö, Stockholm county
Kaffebar, Kvarngatan, Södermalm, Stockholm city
Krukmakargatan, Södermalm, Stockholm city
Rådhuset, Scheelegatan, Kungsholmen, Stockholm city
Sankt Paulsgatan, Södermalm, Stockholm city
Segersta, Hälsingland, Sweden (exteriors)
Sollefteå, Västernorrland county, Sweden (Hedestad train station)
A budget alternative is to look up the places in the Millennium Stockholm Map and go there by yourself, but then you'll miss all the goodies the guide have to say…
As you see it's not only from Stockholm, there are scenes shot from other places in Sweden as well. If you're thinking of going to the other places in Sweden, Uppsala is the closest to Stockholm which you can reach by the pendeltåg (commuter rail) from Stockholm Central Station. Segersta and Sollefteå are much further away, perhaps too far if not having so much time to spare.
Other locations from the film are shot in are: Oslo/Norway, Zurich/Switzerland, Los Angeles, Paramount Studios in Hollywood and Sony Pictures Studios in Culver City, USA.
The Millennium Tour is run by Stockholm City Museum and tickets can be bought either there (Ryssgården at Slussen) or at the Stockholm Tourist Board – or if you have an European VISA or Mastercard at ticnet.se (SEK 120).
©Lifecruiser Love Walking Tours