(Push F5 button to see my new steamship blog header)
Steamships started to frequently visit Stockholms archipelago already in the 1800's and every year since 1964 The Archipelago Boat Day has been celebrated with a ship parade out from Strömkajen in Stockholm to Vaxholm.
The steamships that had passengers the 7th of June 2007 were Storskär, Norrskär, Mariefred, Blidösund plus the motorboats Västan, Enköping, Sandhamn and Sjögull. They were followed by the steamships Ejdern and Sjöfröken.
We were worried that we wouldn't get any tickets, but we were lucky to get tickets on one of the steamships: S/S Norrskär. A beautiful old and genuine steam ship.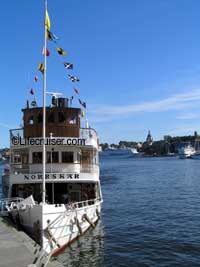 Norrskär was built in 1910 at Eriksbergs Mekaniska Verkstads AB (Shipbuilding) in Gothenburg and still has all the original interior intact, so it's like being thrown back in time - a wonderful feeling, I hardly could stop smiling all the time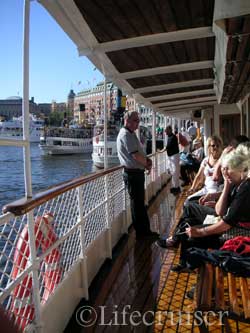 Facts about S/S Norrskär:

The ship was built to go on the route Stockholm-Sandhamn and was from the beginning called Sandhamns Express. When the ship was sold to Waxholmsbolaget in 1947 it changed name. Since the end of the 1970's S/S Norrskär once again is going on this route in the summer.

* Passagengers: 265
* Speed: 10 knots
* Engine power: 320 horse power
* Length: 34,84 meter
* Width: 6,88 meter

Source: Wikipedia
All the old steam ships left Stockholm at the same time in a steam ship parade! There were a lot of steam whistles that echoed over the city! It was so cool - or I should call it hot! *lol*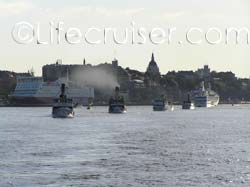 Vaxholm is one of the small towns out in the archipelago with quaint, narrow little streets and some shops. The town grew up around the fort there, Waxholms Fästning - or Castle, which was constructed by King Gustav Vasa around the year of 1549 to defend the inlet of Stockholm.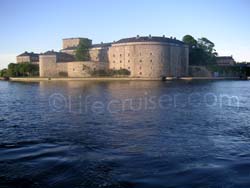 This day there were an Orchestra, Södertörn Symphonic Band waiting us at the quay in Marine uniforms and a market going on, but mostly with the ordinary stuff we've already seen too much of, so we didn't buy anything. We went for a walk and then to a restaurant to get some lighter meal.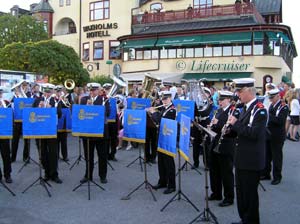 Stockholm has a wonderful archipelago, no more than a few sea miles from the city. There is a lot of boats to take in the summer and we plan to go on some more later on if the weather let us, to visit some of the beautiful islands.
We've been out there before of course, butt mainly with own private boats, so next time it will be nice to just ENJOY

View Lifecruisers steamship slideshow at Flickr
Captain Hottie Lifecruiser
Pssst! Head over to Sanni and congratulate her on her birthday!!! *33 Steamships whistles*

Do you want to hop aboard at next event?
Read about Cruiser Grades.
Read more about Lifecruiser cyber cruise.
Cyber Cruise Calendar 2007
Cyber Cruise Souvenirs
Lifecruiser Cyber Cruise in Technorati

© Copyright
Lifecruiser.com
. All rights reserved.