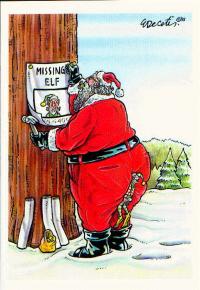 Well, seems like we're not the only one that was stuck in the butt hah? *lol*
We did get out yesterday to do some xmas shopping. We didn't get the gifts we were out to buy though. I guess it's at least one step forward. Or maybe it's just because that we wanted to drink whisky one more day…? *lol*
Butt we did get other good stuff for ourselves. 2 electric toothbrushes, one new mobile phone for Mr L and 2 wireless home phones. So now we can smile white sparkling while talking in the phone.
If we could keep the phones. We discovered that the wireless phones were not two separate ones, but on the same base station. That was not what we needed, since we have two phonenumbers now when we got IP telephony.
So now we have to go back there to change them and go on our supposed xmas gifts hunt today too. Phew. Butt we're up early, so maybe we have a chance to get out there before all the maniacs is out there too.
We use to say that luckily we have one brain together. Not. We've done this a lot lately. Gone out shopping and then returned it again. Remember the wooden blinds? We actually bought them 3 times! The record were one of the blinds, we returned it after half an hour!
It gets kind of tiresome to shop the same thing several times… Not to mention that we go out to shop something and always end up with everything butt that thing we went out for in the first place. Ever happened to you too?
I don't want to go out. I'm not feeling well at all. I have some problems with my bowel (or maybe the gall bladder) that I don't know what it is. Some kind of infection or inflammation, because my back pain medicine seem to work. We'll see where it leads…
So I'm stuck in the butt in more than one meaning…
UPDATE: Guess what? We must go back tomorrow to exchange the new phones once again! It's the third time…. It's just not true…. What's wrong this time? There is no light in the display and very bad numbers, so we don't see what it say! And I'm not even wearing glasses, my vision is good, but that display is bad. Bad bad bad phone.
Man are we getting slim after all this exercises…. Phew!