So what was it that not did go well after the landing in Marseille, France at our trip there in the beginning of August? Was it our meeting with our other blogging friends we were meeting there or what? Was it lost baggage?
No, there our sky-blue suitcase arrived as it should. We went to the toilets (no problems with our stomachs either) and when I'm standing there, I suddenly see a very familiar sight: TorAa wandering around looking after us!
- Hey Tor, here we are! *waving my hand to catch his attention*
…and then I saw the others coming in to the terminal after him too. Such a delight to see them all again! A lot of hug exchange took place! Who could believe that we Scandinavians all should stand there together in France?
They waited for us, because TorAa and Anna had gone by car from Norway and already been in France for a while, RennyBA and DianeCA landed in Marseille the day before us.
Can you imagine how excited we all were…?
We all went to get our car rental (Budget) and it was there the things not went as smooth at one could hope…
You see, we're not really used to the fact that when renting a car, being forced to have 800 Euro in your credit card account as a reserved deposit fee!!!!!!
Unfortunately, we didn't have that amount on that account right then. No sweat you think, just use your other card. No. That is not so easy, you see: it has to be the drivers credit card….
…and I don't have a driving license so we couldn't take it on my other card…
So, are you feeling our sweat coming through here? *giggles*
We were standing there without any possibility to get our car that we were supposed to rent for 14 days and drive around in Southern France with.
The money has to be available to be reserved on the drivers credit card that day, so it wouldn't help transfer money from our other bank account since that one was in another bank.
Luckily it was good A/C in the car rental office, otherwise they'd have been forced to wipe the floor several times from all our flooding sweat! *giggles*
So what to do?
Hubby had to phone his bank, but he had switched phone lately and didn't have the number in his phone any longer….
Step 1) Phone his brother at work to ask him to look up the number and send it to him.
Step 2) Phone the personal contact person at his bank, since he has a company account there too and transfer money over from that account.
However, his contact person were on holiday (surprise!) which was making it a bit more difficult…
Though after many security questions, they helped him out and transferred the money. Phew!
Finally, after what felt like hours and hours, we got our car keys. Poor friends who had to wait so long for us! So patient they were! Golden friends to have, right?
So off we happy went to the car with our baggage.
It was then we remembered that this time we had rented the smallest car they had, a Ford Ka, to save money since we were renting it for such a long time.
Try to get in 1 suitcase and 2 full sized handbaggage in the back trunk. You can do it with some puzzling and squeezing.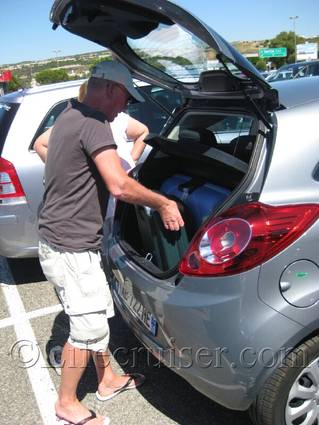 That was what hubby had to do – and with an audience: look how puzzled Tor looks and how Anna is scratching her head…. All of us others coming with fun comments of course! *giggles*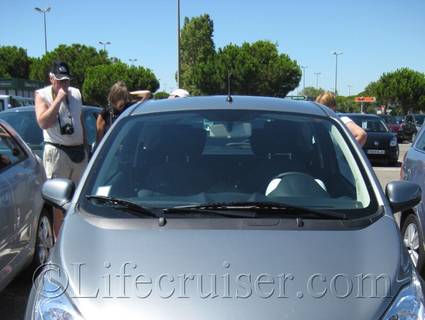 Finally! The bags were in place in the trunk. Ready to go?
- But hey, where was the cable to the GPS navigator….?
Right, in one of the bags! So: out with them again… It was like an old comedy: simply hilarious.
I tell you: never be cheap, never rent a Ford Ka if you're out traveling. It's simply too small… It's not only the baggage you have to squeeze in, also yourselves!
After all this, we were probably leaving the airport several hours later than our dear friends had thought we should, on our way to meet our dear blogging friend Claudie….
(to be continued in next post…)
Lifecruiser ♥ France