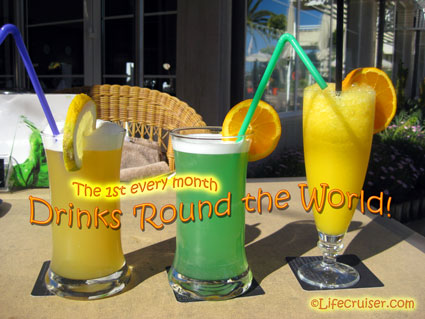 Lifecruiser Travel Blog and Travel Experta have decided to host a new meme, where the 1st every month the party animals (you) makes a blog post, with text and/or photo of a drink from somewhere in the world.
Join the Drinks 'Round the World Meme, don't be shy. It will be like having a party – the more, the merrier the party will be!
You have to tell in your blog post that Lifecruiser Travel Blog and Travel Experta are the cohosts, so people can find all the other drinkers participants easier.
Everyone should make the rounds and leave comments at the other participants blogs – and friends: remember to have fun, keep the party dress and mood on!
Don't forget to stumble and twitter each post to tell all your friends about it, spread the word around the world!
We count on you, that you'll attend this giant international cocktail party the 1st every month and take all your friends with you!
More drinks to the people!
Lifecruiser ♥ Drinks 'Round the World