Join Tackle It Tuesday | Blogroll Code
I'm so darn tired of my TITS by now. They are in my way all the time, preventing me from having fun. Somehow they seem to be sticky as a chewing gum

Though we have reduced them a lot, so I guess I feel rather good with that anyway.
I'm still on the track of buying a new digital camera, not done though. I might buy a new cell phone too, to compensate for my old slimmed point-and-shoot camera. Instead of carrying that one around, I'll buy a better mobile with a decent camera. Though it takes time to do all the researches about them!
…and when I finally see's one I like – they don't have it in the stores, not even the internet stores! So it's tough to make a kind of secondary choice.
We've bought some summer shoes to Mr Lifecruiser: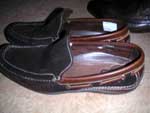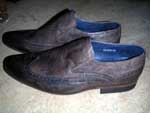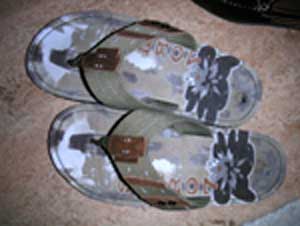 They don't look much on the photos, especially the second one, butt it's actually very nice looking when he puts them on! The sandal ones we like most, because they are cool

I don't understand why they don't make more men's shoes than there is out in the stores now. It's not much to choose between and mostly very boring ones. Poor men!
We also found a nice tie for him that will suit the jacket he is wearing at the wedding the 16th. Now, all that is remaining is a new white shirt and a new nice belt and we're all completely dressed to go!
A much more difficult task is the buying of a bikini that actuallly fit my strange body….
These ones below are what I'm left with now. The green top is very very old one that I now mix together with the bikini pants from a new bikini – I gave away the top to my sister Susan. The brown top is a new one which I hope to find some matching pants for another year…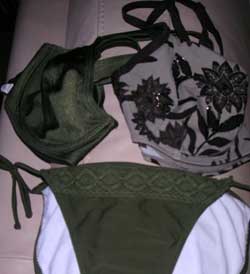 Even here, they don't look much on the photos though they're real nice on, butt I guess you have to wait for that shot

Sort of on the way when we were searching for the summer shoes, we found other summer clothes, but I thought that I'll do a separate post later with them as they are too many!!!!
I'm still drinking the horror med's (iron & multivitamines & minerals) from the health store and I think that I begin to notice a difference actually! I don't know if it's just temporarily, butt I do feel more alert and not so unconscious as before, some skin improvement… and maybe not loosing so much hair anymore… So I do hope it will keep improving!
I've been to the new doctor – and got another fibromyalgia medicine to test that don't seem to work either, so now he ordered me a larger dose of it this morning. Appearently this is the only medicine where it can help to increase the dose to get rid off the ill-effects.
I feel like a guineapig… In a bad way. YUK. Too many ill-effects. Actually there isn't much more to do about the Fibromyalgia. I've already been warned of that and I'm OK with it. I'm determent to live and have fun anyway

He thought that our strange sweats we have both of us, may be a virus, so it's nothing he can do anything about. But at least he listened to us, which is more than my old doctor did…
My back is giving me more problem than the Fibromyalgia, but they won't do anything about that either as it seems. So I'll continue to live with that as I have for the last 6 years. We'll see what the Social Insurance Agency decides for me later this year.
Then we comes to the Gyn visit. This new gyn was very understanding, like a normal person (!) and he sent me to take a lot of hormones tests which takes a couple of weeks to get result from. He didn't give me much hope of finding something to cure, but at least we'll know the results from then. Another step taken.
Next tackles:
- Buy a new digital camera – part 2
- Buy a new cell phone with decent camera
- Buy a decent laptop (yummy!)
- Cleaning the basement – part 3
Soon I'm rid off all tackles and is free for the summer.
Is it like a TITS graduation? *giggles*
Captain TITS Lifecruiser
See the latest post and Tackle It Tuesday participants over at 5 minutes for mom.

Do you want to hop aboard at next event?
Read about Cruiser Grades.
Read more about Lifecruiser cyber cruise.
Cyber Cruise Calendar 2007
Cyber Cruise Souvenirs