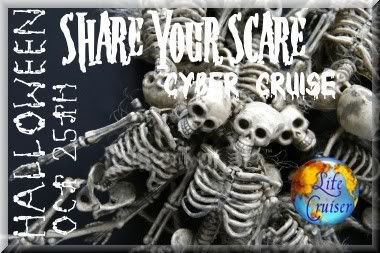 Share your scare with us! Dig forward your (or others) skeletons from the closet and tell us in a blog post or leave a link in the comments. All bloggers are scary welcome

It doesn't necessary have to be a Halloween scare – like mine isn't, because we haven't been celebrating Halloween for long here in Sweden.
The Burglar Scare
This happened when I was a teenager in the seventies and still lived with my parents in an apartment in the suburbs of Stockholm. My elder siblings had already moved away from home.
An early morning I'm sitting there at the kitchen table all alone, only my Mom was at home and she was still sleeping. I had made my breakfast ready before going to school.
The breakfast was on the table already: a big cup of Tea and six (!) ready sandwiches on a long row at the side of the cup.
Suddenly I heard a barely audible noise at the front door. The strange thing was that I hadn't heard any noise in the common hallway before that, so naturally, my hair stood right out in my neck of fear!
I listened, holding my breath, to the person trying the door handle very, very slowly to see if the door was unlocked. It wasn't. I then heard how the person try a key in the lock – that didn't fit.
By now, I was already convinced. It was a burglar. My heartbeats were pounding real hard by now. My body started to shake real bad too.
What to do? I was only a young girl!
I couldn't go and wake up my Mom, because she was sleeping in the other direction so I had to pass the front door if going to her and would I be fast enough to avoid the burglar? I didn't know how fast he was operating.
The burglar kept on pottering with the door lock and I felt really under pressure, what to do? What to do? Hide some where? But where? This was a small apartment!
Then I heard him succeed with the lock. He very, very slowly opened the door….
I quickly ran the other way – into the bedroom. Meanwhile I could hear him tiptoe to the room where my mother were sleeping, obviously stopping in the opening, but not going in there.
Oh no, he went into the hallway to the kitchen!!!!
Needless to say, I panicked.
I sneaked into my bed and pulled the blanket over my head!!! Laying there, shaking like a leaf in the fall winds and listening to him tiptoe his way through the hallway and into the kitchen.
Damn! My tea cup and all the sandwiches! He was bound to know now that some one was around and awake here! Oh, why didn't I put them away???!!!!
So he continued into my bedroom and by now I thought the whole bed were shaking! I heard his sneaking steps coming towards my bed! Help me some one!
I've never ever been so scared in my whole life. You know, when being that scared, you'll never know what you're doing, you're not thinking rationally.
So when I understood that he stopped in front of my bed, instead of waiting until he took away my blanket, I jumped up facing the fear eye to eye!!!
And scared the hell out of my sister Anne…. *giggles*
Then we fell, double folded, hysterical giggling together on the bed. Needless to say, very, very revealed both of us.
She hadn't told us that she had an early appointment at the dentist nearby and since she was too early and still had her key (which weren't fitting very well) she thought that she would come and visit us.
When she came to the kitchen and saw all the sandwiches, she thought I had become ill and went to my bed to see how it was with me.
The feeling of an intruder in your home, is one of the biggest scares, taking away your safety totally!
I'll never understand why I just didn't take a knife from one of the kitchen drawers and placed myself behind the kitchen door. Then of course – what would I have done with the knife? Little me that can't hurt a fly? *giggles*
I never ever want to be under cover that way again…. *giggles*
SCARY UPDATE:
This afternoon, I got a letter saying that this dentist mentioned above, has very sudden passed away (she is about my age) and they are contacting all her old patients and since my mother were that, I got this. I take care of all her correspondence.
How about that strange coincidence?
The Ghost House Scare Flare
A long time ago, I went to the local amusement park, Gröna Lund, here in Stockholm, where they just had opened a new Ghost House that was said to be very scary. They had hired ghosts wandering around there scaring the visitors. Quite frightening actually, so the had to change that later on because people got too afraid… *giggles*
Anyway, I went there with my ex. He has humor too, so he decided to try to scare the ghosts instead of the opposite. It was difficult though because there were so many visitors, so he decided to have some fun meanwhile.
So when there was a couple, with the woman in front, approaching us from behind, he jumped all the way to the roof screaming like he was scared of one of the ghosts. And then he told her: Oh, I thought it was one of the ghosts….
No need to say that the woman were NOT happy to hear that… *giggles*
At last he waited around a mirrored corner for one of the most horrifying ghosts to pass him and when he rounded the corner, my ex jumped forward screaming with a scary deep voice. No need to say, the ghost really pee'd his pants!
It took a long time before he stopped shaking and he was repeating all the time: Wow, so scared I got!
Me? I blended in perfectly among the ghosts… *giggles*
Lifecruiser old post: Afraid of the darkness memories
Others Share Your Scare Posts:
Share Your Scare Spider Toxic
The Susan Sarandon Stripper Scare
Several Real Scares
Kats Real Share Your Scares
The Spirit in the pin
Drum roll please
Scary!
Mar's T13 Scares
Bats Not the Insidious Creatures of Myth – Bracken Bat Cave
Vijay's Halloween
Captain Scared Lifecruiser
All bloggers are welcome to Lifecruisers Halloween 23-31 October, with a spooktacular Halloween Party the 31th!
Don't miss the next Halloween Event: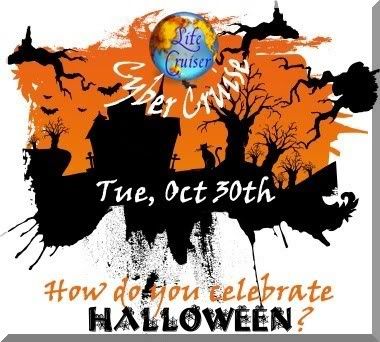 Put a button in your sidebar – grab one here!
♥
Coming Cruise Events OR Lifecruiser Archive 2007
♥
Lifecruiser Tips:
Get some of Gattinas FREE headers for Halloween!