Ho ho ho! Merry Christmas! Santa Claus (Jultomten in Swedish) has been visiting us with Christmas gifts this year again.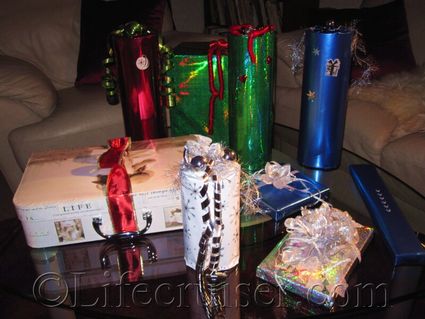 That was just some of the nice Christmas gifts Santa left here in a hurry… You can see some more Lifecruiser Christmas gifts photos at Flickr.
Did you know that Santa must travel about 102.8 million kilometers to visit 108 million homes at Christmas? No time for any breaks there!

In order to make it, he has to fly with a speed of 1040 kilometers per second, roughly equivalent to 3000 times the speed of the sound.

He only has 1 / 1000 second to land, climb down the chimney and leave the Xmas gifts at each home.

Source: Illustrerad Vetenskap (Swedish Science Magazine)
No wonder that we never manage to see him!!! *giggles*
I'm sure that many persons wish they had his travel speed right now, since there are a lot of people stuck everywhere due to the snowy weather and canceled transportation, at airports, bus stations, train stations and even on the roads.
Isn't it strange how the weather always turn bad just around Christmas when people want to get somewhere for Christmas…?
We, on the other hand, are stuck at home in Stockholm, wishing we were somewhere else without all the snow and minus degrees. Brrrr.
We wish you all a Happy Christmas Holidays, filled with joy & love!
Lifecruiser ♥ Christmas Travel

Earlier Christmas posts by Lifecruiser:
Merry Christmas 2009
Christmas Dinner Delights 2008
Swedish Christmas Dinner Preparations 2008
Different Christmas 2007
Merry Christmas All Bloggers 2007
Some Swedish Christmas Gifts
Christmas Street Market Stockholm 2007
Wordless Christmas
Swedish Christmas Traditions
Christmas Eve is here (2006)
Christmas Preparations (2006)
Lucia with Glögg & Lussekatter (2006)
Lighten Up Christmas (2005)