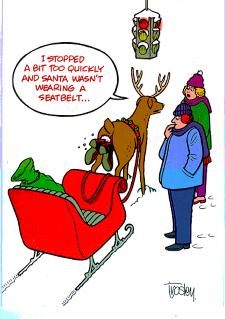 I hear that the traffic is very heavy now before xmas. I do hope that Santa is getting out in time. And we too!
It almost feels like we got Santa stuck in our butts. We need to go get our butts out today, shopping some of the last things for xmas. Gifts mostly. Not all the food though. Meaning we have to go out some more time before xmas… *sigh*
Accordning to Happy and Blue 2 that means that we're exposed to a lot of germs and it's a fact to get sick sometimes during xmas time since he's brilliant suggestions for how to solve this may take a while to arrange.
Meanwhile I've come up with the perfect solution:
Drink whisky! Maybe it kills some germs. We just have to drink whisky all the time during the shopping and the germs will not stand a chance!!!!
Excellent idea, we started yesterday evening already just to be on the safe side

Of course, this whisky drinking may have side effects, like our family getting very strange christmas gifts this year….