We have so many travel photos to sort from our Baltic Cruise from Stockholm to St Petersburg, that I have to throw in a post in between with just the souvenir photos from a souvenir shop in St Petersburg.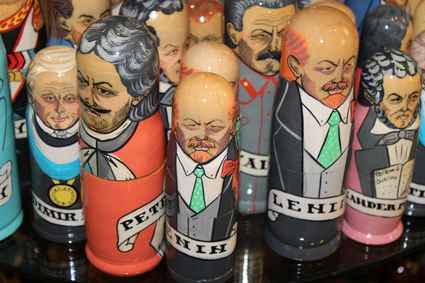 What could be more typical Russian, than those Russian Matryoshka dolls with former Soviet leaders?
The first Russian nested doll set was carved already in 1890, so it's along tradition for sure, but since the 1990s matryoshka dolls have been facing a downward spiral, so it may stop eventually when there is no one left with the skills.
Did I buy any souvenir? No, I make my own souvenirs with the photos I take! You can see all Lifecruiser St Petersburg Souvenir Photos in Flickr.
Stay tuned to read more about our sightseeing time in St Petersburg – which included an Idiot (or maybe more) and Russian Vodka!
©Lifecruiser Love Souvenirs
Related Baltic cruise posts by Lifecruiser:
How we escaped from a cruise and ended up in jail… Part 1
How we escaped from a cruise and ended up in jail… Part 2
Our night in Katajanokka Jail
Baltic Cruise Stop Tallinn – UNESCO Cultural Heritage