At our summer paradise island Gotland at Sweden's east coast, there is a stone oven bakery & cafe that is very popular and well worth a visit when on the island: Rute Stenugnsbageri.
Gotland is not a big island, so even if staying in the main town of Visby, it's not a big thing to make a roadtrip to Rute Stenugnsbageri around 30 miles north of Visby. The whole island is about the same size as Long Island.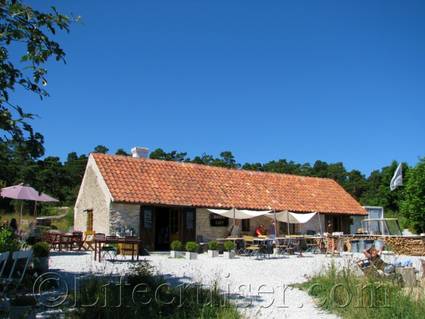 Stenugnsbageriet bakery and cafe are located in an old limestone barn in an wonderfully rustic environment. Kind of in the middle of nowhere actually. The different cafe tables are scattered all around the gravel yard and there is only an outdoor ladies room around the corner.
Despite this, it has become one of the most visited places of Gotland. Maybe because of the owner Erik Olofson who has baked before at some of Stockholm's best cafes and is known to keep up a certain level of quality on his products.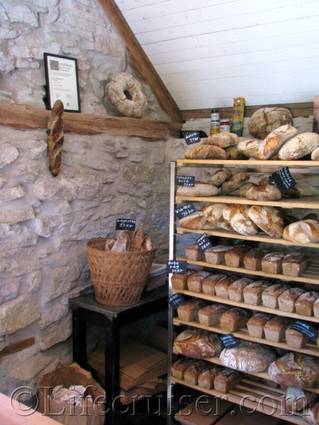 They prepare the dough the day before and the bread is made in a stone oven, which gives it a special character and flavor. Only ecological primary products are used and local products as much as possible.
Much of the work are done by hand with oldfashioned methods and another thing that we liked very much were the fact that you actually can see the bakers in action, it's open into the bakery.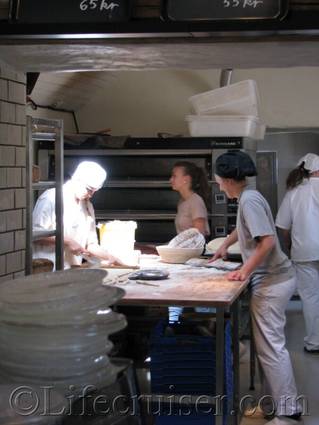 The cafe opened in 2006 after a heavy renovation of the place and is quite charming with old tables and chairs, creating a very relaxed atmosphere to make you feel right at home.
It was the Finnish architect and ovenbuilder Heikki Hyytiäinen that created the modern wooden fired stone oven, with assistance from other experts.
The ovens isolation is so effective that you don't need more than around 50 kg birchwood to every fire and that produces enough heat for baking up to 300 bread!
They even got some prizes for their bakery products:
Swedish Mastership Gold, Food craft 2007, Fruit-and nutbread
Gastronomic Academy's silver medallion 2008
Swedish Mastership Bronze, Food craft 2009, Rute rye bread
Interfoods stipendium 2009
If you go to Gotland: be sure to try out Rute Stenugnsbageri sourdough rye bread or maybe their typical Swedish cardamom buns.
Also see Lifecruiser Rute Stenugnsbageri photos at Flickr.
How to get there: Take the road 148 from Visby towards Fårösund, take off at Lergrav / Valleviken. Continue to Gerungs.
Don't miss the opportunity to explore the surroundings a bit – as we will do in the next blog post…
Lifecruiser ♥ Bakery Roadtrips