We just LOVE xmas shopping! When we're done! It's like when you have stopped hitting yourself. It's just so nice…
But the naked brutal truth that just hit our butts is that we aren't done with ours yet. Phew.
Wait, I just got the most fabulous idea! Why not use our own housekeeping methods?
Which means:
1) None of us are doing any Christmas shopping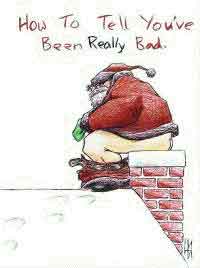 2) Doing the Christmas shopping rude and nude
(No nude pictures unless you bribe us)
I favor number two

That way I can become a new xmas star.
Think about it, what an attention we would get everywhere. In the streets, parking the car, in the stores. People might even let us pass them in the lines. Isn't it a genius idea?
Though we have to be a bit careful with certain body parts not getting squeezed or something. Not stick out anything to far or mess with people too much.
We certainly don't need any more red ball ornaments.
What xmas shopping method do you vote for?
————–
Help the ants to fight the elephants by support Lifecruiser in The Weblog Awards 2006!
♥ Vote every day here ♥
(Why don't make it to the startpage in your browser?)