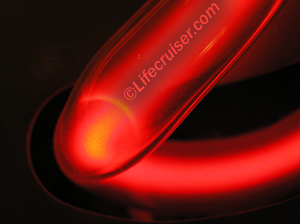 Join Wordless Wednesday
Tuesday was my first day for ages that I didn't have any post up.
I experienced a kind of red light in my mind. In double meaning. Total post block in my mind and totally feeling with my heart.
A lot of Love in the air

As usual you might add, butt this was special!
You see, we had an anniversery. 1st of May 2004 was the day when Mr Lifecruiser went down on his knees and proposed to me. And it was in Paris…. Oh la la!
(Read more about our Love here)
Something else touching our hearts: Hootin' Anni have had problems with a galopping heart rate the last week. I do hope that they'll find out what it is and cure it soon!!!
Hop over and leave her some love from the cruisers – though I had problems leaving a comment since Blogger still won't let me ;-(
I'm so looking forward to see Antwerpen as soon as Gattina is ready to guide us!!!
Captain ♥ Lifecruiser
UPDATE: As a cruise bonus you just have to visit Claudies hometown! It's a little town in Provence (south of France), called Ollioules near Marseille.

Wednesday port: Antwerpen, Belgium.
Host: Gattina.
Do you want to hop aboard at next event?
Read about Cruiser Grades.
Read more about Lifecruiser cyber cruise.
Cyber Cruise Calendar 2007
Cyber Cruise Souvenirs

Lifecruiser Cyber Cruise in Technorati