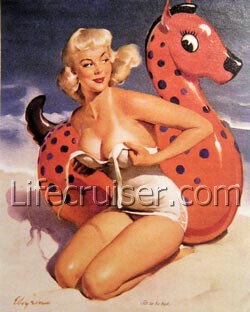 Fit to Be Tied, 1956.
Oil on canvas. Gil Elvgren.
© BROWN & BIGELOW, INC, ST.PAUL, MINNESOTA
After the very interesting discussion in my last post (participate you too!), I think we need a Friday joke

The Captain quickly realized that the deep leaning at the rail at top sundeck had unceremoniously dispatched the top part of her bikini into the deep.

To not make any one else feeling awkward, she clasped her arms across her chest and made a dash for her cabin. She could sense everyone gawking at her along the way.

Upon entering the deck stairs a little boy, who was following his mother to the beach asked, pointing to her arms:

- "Are you carrying puppies in there?"

Not wanting to explain what had really happened, the Captain replied:

-"Why yes, yes they are".

She quickly moved on but heard the boy shout after her:

-"If you're giving them away I'll take the one with the pink nose!"
Well, I think I'll keep my puppies to myself… and for Mr Lifecruiser of course! *giggles*
Captain ♥ Lifecruiser
Copyright Lifecruiser.com. All rights reserved.