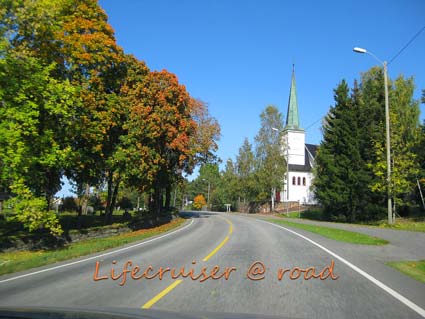 I'm sure you all wonder how our Norway trip was and why I haven't written anything about it yet? That was because I was occupied having a blast as a guest at TorAa and Anna – and I decided to dedicate all my time to them and their guests instead of blogging.
Sometimes you have to prioritize what's most important, right?
Now, I was going to start with the end, telling you about our trip home. It shouldn't really be much to talk about, but…
We had roughly about 530 km to drive home. I think we started at 01.30 pm, yesterday, as we wanted to come home in reasonable time and not in the middle of the night. TorAa said something about us being home at 10.30 in the evening but Mr Lifecruiser said 07.30. We would never have believed that he should be right…
TorAa was showing us up to the right road, E18 and from there it's just to follow E18. A piece of cake.
We had a wonderful time chatting in the car about all that fun and interesting experiences during our visit in Norway. Though there were some comments that should have made us to wake up earlier than we did…
- "It's funny I can't even remember coming in to Norway this way…"
- "When we came from Sweden to Norway the roads were going up and up, so when we go home the roads should be going down…but now the road is going up and up…"
- "The roads sure are curvy to be a big road like E18…"
After about 40 kilometers we suddenly acknowledged that this is NOT E18 and soon enough we got that confirmed by a sign that said road number 22.
You know that you're really tired (or been to a helluva party!) when you go on for 40 km without listen to your brain screaming that you're on the wrong road! *giggles*
We did go on just for a short bit, since we were hoping to get to a road cross, which we did but it didn't help us very much. We could have gone to the right, but on more curvy roads so we did choose to turn back again.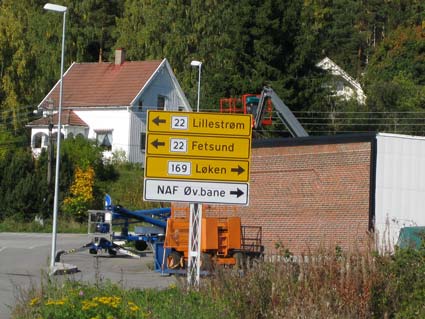 Some short explanations about the map below:
A = Oslo, Norway's capital city
B – C = Our detour from E18
D = Stockholm, Sweden's capital city
CLICK TO ENLARGE MAP
Click on the + sign to zoom in and get more details and small place names. The thin gray line right to the right of B is the border between Norway and Sweden. As you can see, the C is almost back in Oslo again…
In this photo below you can see the bus stop in Fjellsrud. Maybe it would have been better to take the bus? Ha ha ha…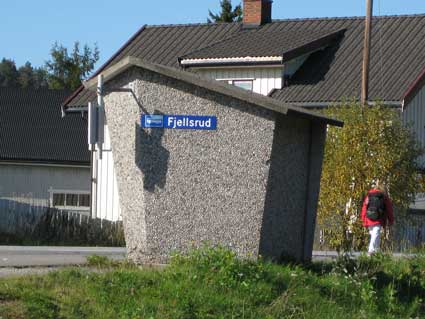 We stopped in Fjellsrud grocery store to buy some candy and Coke too before heading back – and forgot the coke on the stairs outside the store…! We had to stopped the car again to get it. You can see it the stairs in the left of the photo.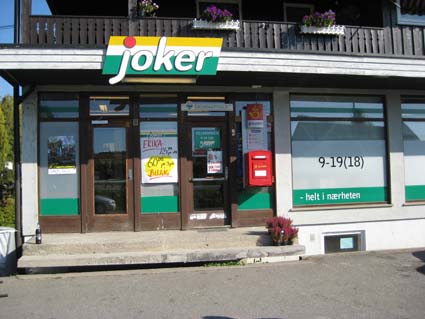 Seriously – where are our brains…? Ha ha ha…
So that meant that at 03.30 pm we had still not got further than to Mysen, about 60 km. We just laughed and laughed at the situation. Besides that, it was a nice two hours detour, because it was a very beautiful road along a lake.
Only thing we can say to our defense is that there were some road works just before our detour and we guess that we must have got on the wrong road somewhere there.
A road work detour lead us on a detour.
Shortly after that Mr Lifecruiser heard a sound and opened the window to check it up and leaned his head out a bit and – svooosch – his cap blown off!!!! So we had to turned around once again and go back to pick it up – of course it were dirty now since one car run it over…. *giggles*
Another funny thing was, we didn't get far after that, about 20-30 km. We just passed the border between Norway and Sweden to be exact. You see, we did the big mistake to stop our car to shop for our last Norwegian money in the border store…
Not a life. The car battery were stone dead. We have had some minor problems with it earlier in Sweden and had already decided to buy a new one soon, but as it had been working well lately we didn't thought that it were that urgent.
Now we could tell it was. Some people from the border store had to help us to push the car so it started. YES! It started without problems, so it was clearly the battery and nothing else.
We did go to Årjäng to get some petrol to me first, so we made a stop at the local pizza restaurant. Of course we had our doubts about starting the car again, but things always is easier to handle with a full stomach, right? *giggles*
We were lucky because a newspaper had a celebration so they drives around with a "cake bus" this week and offered us coffee and cake too.
We replied to them that we might need it since we have to push our car to get it started again… *giggles*
It was a very nice woman, she offered us help to push the car too! Now that's service!
Down to the petrol station to buy and change to a new battery and that was it. King of the roads again!
It's exciting to be out on the roads, don't you think? *giggles*
If we not had started so early as we did, this would have been a bigger problem for us than it was. We could have been forced to stay over night somewhere since not all petrol stations are open in the evenings in small towns.
So, you see: TorAa was right, we did arrive at home exactly at 10.30 pm and not at 07.30 as we should have. Well, ehrm, Mr Lifecruiser had to drive rather fast some parts of the way, to get home in time

There is another thing we wonder about though: how come that almost every time I get hungry (urgent), we don't find any good places – or they're closed? It's really mysterious.
I try to avoid McDonalds, but I tell you, it's not an easy task – so we had an evening coffee and icecream there at the way home too.
Though we get to do a lot of smaller detours and see closed restaurants, which often is situated very beautiful…. *giggles*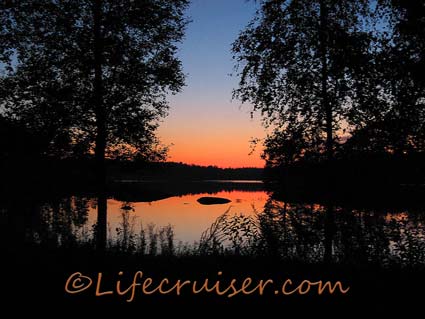 Romantic sunset at a lake in Sweden
Lifecruiser ♥ Roadtrips