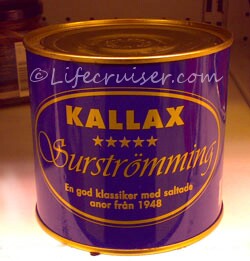 Theme: Smelly | Next week: Practical

Warning: Do not open this can!!!!!
Content: Surströmming = Fermented herring from northern Sweden.
This is without doubt, the most smelly thing we have here in Sweden! I'm glad that we did not have that as party food yesterday! Thanks for coming here and having scary fun – you are all such fun to be with!
Think of the most disgusting food you ever have eaten and then imagine that this is worse!!! You could faint just by the smell of it. I do not even know if I will call it smell, it is more like a stank.
It is like eating rotten fish. They camouflage it with other stuff and drink heavily to be able to swallow it and the flies just LOVE it! YUK.
It is considered a sanitarian inconvenience to open a surströmming can if you are living in an apartment building, because the smell is spreading far, far from the can. You can not hide it. Therefor, it is amost always opened outdoors and preferably eaten outdoors too.
I have tasted a small bite once, just to be able to say that I have tasted it, but it is difficult to persuade yourself to do it when it is stinking like that!
I read somewhere that we have exported a lot to Japan, they must have lost their sense of smell… *giggles*
I know that the Norwegians have their rakfisk, which also is fermented fish, but their is not smelling like the Swedish surströmming does. They are not at all similar, I have tasted the rakfisk and it is delicious. Almost like salmon

Captain SmellyBelly Lifecruiser