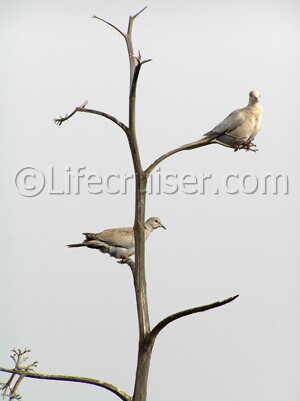 Theme: Skinny | Next week: Important
PhotoHunt in Technorati
We spotted this skinny tree at the Canarian island Fuerteventura, but it were not noticed by us at first, because we only saw the doves. Before the camera was done with the imaging process, all the other doves that were in the tree did fly away, so you're not going to see how cool it really was…
As usual when you're going to shoot some really cool photo, right? *giggles*
The doves most certainly are Eurasian Collared-doves, Streptopelia decaocto. It has not been common in Sweden, they say that it has starting to show up more often, even though I've never seen any here around Stockholm or any where else.
This specie spread across Europe in the 1900s, but it's said to originate from India and then in the 1600s came to Turkey and spread within Europe from there. That's also the reason for it's name within Europes countries, Swedish: Turkduva, Norway: Tyrkerdue, French: Tourterelle turque, Spanish: Tórtola turca, Germany: Türkentaube.
See what we have in common here? It's a globetrotter dove! *giggles*
I'd love to be able to fly myself instead of with airplanes….
Captain ♥Flying Lifecruiser
New Cyber Cruises:
Sur le pont d'Avignon
Ice Sculpture Exposition in Brugge
Latest Cyber Cruise:
Crossing Rio de la Plata from Buenos Aires to Colonia del Sacramento