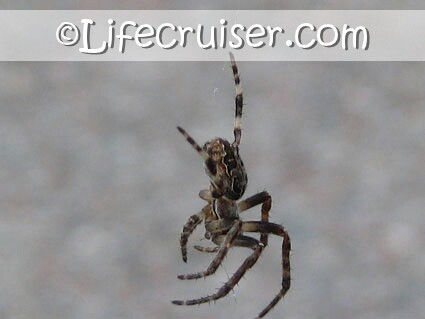 Theme: Sad

PhotoHunt
Maybe you wonder what this spider has to do with the word sad? Well, this is a very special story…
When we were at our summer island in the summer, this spider built a spider web at our car. From the mirror to the door. We liked having him with us, so we were a bit careful opening and closing the car door because it was a very delicate web.
He seemed to like being on sightseeing tours with us too. He was going around all the island and some more with us, having his time of life. We got so used with him and to check up that he was OK, that we even named him Boris.
Boris didn't seem to want to leave us, even though he had many opportunities to do so. He had decided that his home was behind our cars mirror. Maybe he just loved the color, who knows?
Behind the mirror was a safe place when the speed winds started, even though he seemed to enjoy hanging outside to let the wind blow in his hair.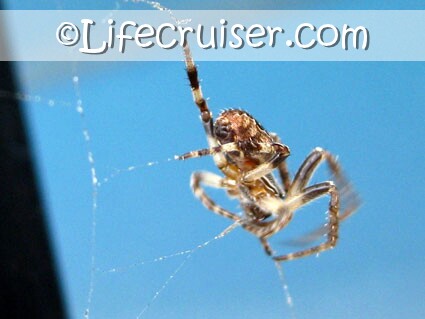 It made us worried sometimes, he was pretty wild, hanging in the swinging net. You can see how he almost let go of the web threads!
But you know, we just thought: youngsters, you got to let them go a bit.
Then the summer vacation ended and the day when we should go home came. Boris did hide himself behind the mirror, determent to stay. After all: this was his home.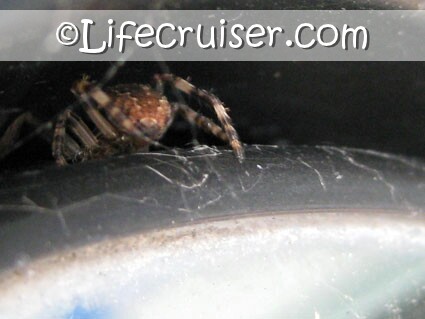 So he did travel with us, from Fårö to Gotland (another island) with the small road ferry, over Gotland to Visby where the other big ferry goes over to Nynäshamn, south of Stockholm - and all the way home in Stockholm.
He took it well. As usual he enjoyed being out traveling. Only difference were perhaps that he didn't get any beer at the ferry…. *giggles*
He had no problem to adjust to the city life, despite the fact that he was a farm boy. He did thrive, without doubt. The weeks went by.
We did have one problem with this. I didn't want to leave the car to be washed. No, that would be too tough for Boris, what if he drowned…? Horrible thought. I couldn't stand that. So we didn't wash the car.
Then one day in the end of August, we did go out for some errands and Boris hanged along as usual, but either it were too windy outside this day, or Boris hadn't maintained his web as he should. He was pretty wild hanging out there in the web while we were speeding.
When we arrived at our goal, we noticed that the web was kind of loose. Since I had my camera with me, I thought that I better take a photo of him, it might be my last chance!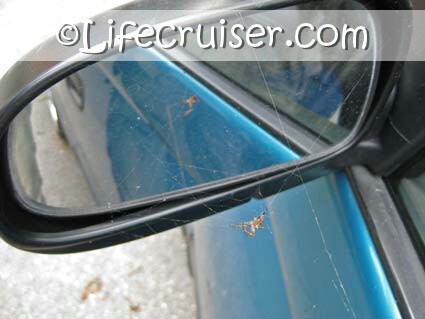 This above is that photo, our last photo of Boris. In a try to come close enough, we damaged his web even more… Probably he was quite mad at us, because he went back behind the mirror and that was the last sight of him.
He moved out, without any notice. It was a sad day. We had been looking forward to taking him with us on our trip to Norway…
Lifecruiser ♥ Travel